Best Canon Speedlite Accessory

(flash accessory kits)
What is the best canon speedlite accessory? If you have a Canon Speedlite 270EX II, 340EX, 430EX II, 580, 580EX-II or 600EX-RT, you have some great opportunities for taking your flash photography to a whole new level.
If you're looking for a good Canon Speedlite accessory kit, you've got even more options. This article will help you learn about the best alternatives.
External Battery for the Canon Speedlite 580EX-II
Some would argue that the best Canon Speedlite Accessory for the 580EX II is a good external battery pack. Your power recycle becomes quick as a cat and you can shoot full power flashes, one right after another. 

 The more powerful Canon Speedlites, like the 430EX, 580EX-II, and 600EX-RT are designed with the capacity for shooting rapidly and extended use. Relying on just 4 AA batteries limits your flash gun to slower recycle times as well as limited battery life. 
That becomes real important if you are the hired photographer for an event and you need quick re-cycle times so that you don't miss one of those special moments.
How to Extend the Range of Your Canon Flash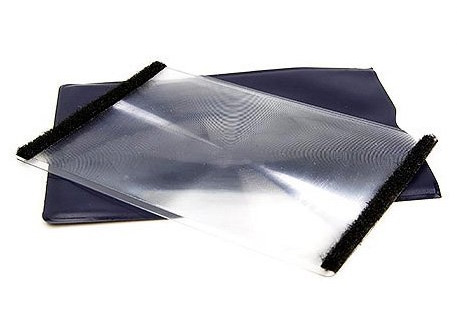 Extend your
Speedlite's distance range


There are a number of gadgets available to boost the reach of your speedlite. They use a lens to narrow the beam of light and extend the range of your speedlite. 
These accessories are made of lightweight materials, can fold down compactly for easy carrying and have several advantages. They're very popular with wildlife and bird photographers.
They increase light output without requiring batteries.  
They don't interfere with your automated exposure.
You can achieve faster flash recycle times in certain situations.
You can save on battery consumption.
Raise Your Canon Flash Above Your Camera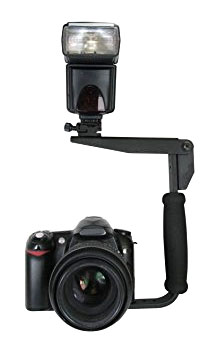 Flash Bracket
There are 2 drawbacks when flashes are positioned close to the camera lens. Doing this can produce harsh shadows directly on the background behind your subject and sometimes can produce those scary red-eye reflections.                
Many photographers like to raise their flash up to a higher level to compensate for these effects. One Canon Speedlite accessory is a flash bracket such as a Stroboframe or JustRite flash bracket.   
Flash brackets are popular accessories with event photographers. They gets your speedlite up higher above your lens and allow you to rotate your camera for vertical photos with the flash centered above the lens axis.
Back in the days before I became a Canon camera geek and and way before the arrival of digital photographer, I  used at least 4 different models of stroboframes.
Best Canon Speedlite Accessory For Weddings
Some of the brackets rotate the entire bracket to align your flash above the camera lens. The nicer models will rotate just the camera while maintaining the flash directly centered above the lens axis. This prevents harsh shadows from showing up to the side of your subject.

I am a big fan of the JustRite modular system of flash brackets for several reasons. It is a professional system I purchased many years ago for shooting weddings.  
Pricey, but well worth it as it worked flawlessly with Mamiya 645 film cameras for several years, my SLRs, Canon Speedlites and Quantum Flash units.
Speedlite Accessory Kits
During my research for accessories for Canon Speedlites, I came across a kit that will essentially turn your flash into a complete studio lighting system. Although it's not perfect, it's an interesting option for your Speedlite. Here is a video showing you one particular speedlite accessory kit.
Youtube is a great source for getting reviews on Speedlite flash modifiers. Sometimes you have to weed through a few poor quality videos before you get to one that is insightful.
Amazon reviews are the same way, but you get opinions of photographers who have actually used the product in question.
Canon Speedlite Batteries
One more comment with regards to external Speedlite batteries. I've used quantum batteries for many years. It's one of those situations where I actually prefer a non-Canon product over the Canon brand.  

Quantum specializes in batteries and they develop and research incompatibility issues to make sure they perform just right with Canon and Nikon equipment.
Keep shooting, Keep learning, keep improving


Bruce Lovelace is the publisher of Canon Camera Geek. Read more about him on the About Page. He also publishes how to articles and camera gear reviews at the Photography Tips website.
View some of Bruce's photos on Instagram  and Flickr.   Join the Tribe: YouTube. Visit the Canon Geek FaceBook Group. Bruce runs photo workshops and provides 1 on 1 digital photography coaching.
Places to buy flash accessories that support this site: