Canon BG-E8 Battery Grip

(The Ultimate Camera Camera Accessory)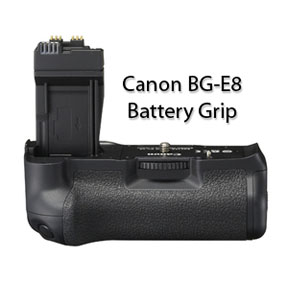 Canon BG-E8 Battery Grip is compatible with the Canon T4i, the Canon T3i, and the Canon T2i.  
These cameras are also known as the EOS 550D, 600D and the 650D.  The BG-E8 attaches to the bottom of your camera.
The BG-E8 includes the desired vertical shutter release button to make using your camera in the "portrait"  or vertical orientation easier on your wrists.
It also has the mode wheel to give you ability to adjust the camera functions.  When you turn the power button on the grip to it's off position, the controls on the camera are active. The photo below shows the two magazines that can be used with this Canon grip.  The BGM-E8A is for use with the AA batteries.  The BGM-E8L is for the LP-E8 batteries.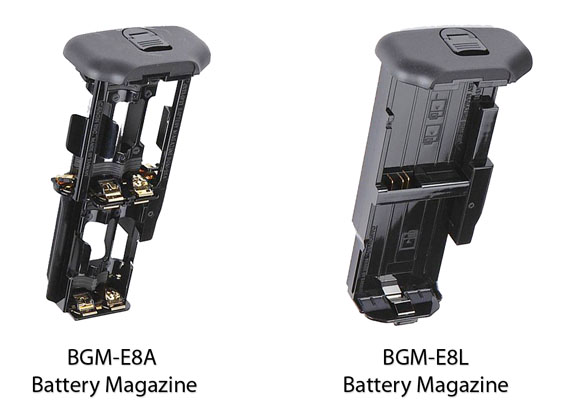 This grip will accept 2 high-capacity lithium ion LP-E8 batteries, giving you twice the staying power as without the BG-E8.  It can also be loaded up with 6 AA batteries if you use the included BGM-E8A battery magazine.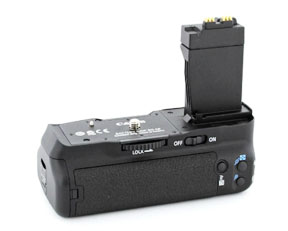 Some people say that  using one of these battery grips make you feel like you are using a Canon EOS 1D or 1Ds series camera.  With the 1D and 1Ds series of cameras, you do not have the option, like you do with the T4i, T3i, and T2i, of removing the battery grip.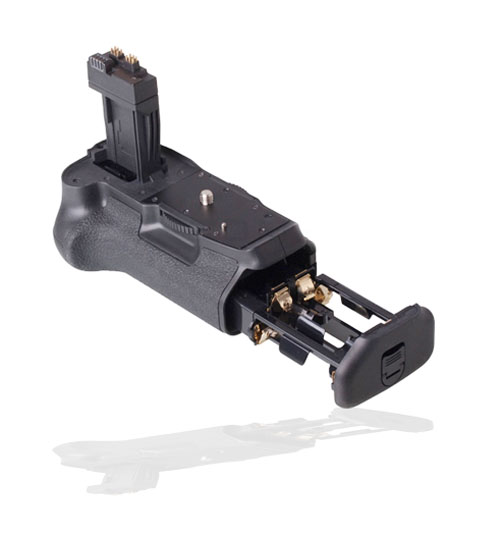 This Canon grip has built-in camera control buttons that make it easier to shoot  vertical compositions.  This includes a shutter release, an AE/FE lock, as well as a Main Dial control wheel. To install the battery grip, you first remove the battery compartment cover along with the battery.  Then slide the grip into place and secure it with the tripod-mounting screw.
The bottom of the battery grip has a tripod mount to be used in the regular way.  One or two LP-E8 batteries can be inserted into the BGM-E8L battery magazine and inserted into the grip.The biggest argument between supporters and detractors is the added size and weight when using  the Canon BG-E8 Battery Grip.
Extra battery power is also very valuable to have if you are using one of the Canon Speedlites, like the 580 EX II.  If you have invested a lot of money already in a quality DSLR or speedlite, you don't ever want to miss out on a photo opportunity because of a lack of power.
The best Canon camera accessories are a big investment.  Don't get me wrong.  You are worth it and you deserve it.  It's just a big decision on whether to buy Canon or look for a cheap alternative.
Where to Buy a Canon BG-E8 Battery Grip or a Cheaper Alternative
I buy my Canon cameras and accessories from two on-line retailers, Amazon and Adorama.
---
| | | |
| --- | --- | --- |
| Substitute for BG-E8 Grip | | |
---
Happy Shooting!


Back to Canon Battery Grips
Go To All Canon Accessories
Back from Canon BG-E8 Battery Grip to Canon Camera Reviews