What's a Good Canon Speedlite Accessory
to Diffuse Your Flash
Diffusion
You can get a good Canon Speedlite accessory, the Pop-up Soft-Box External Flash Diffuser and improve your lighting dramatically.
If you're tired of getting harsh shadows, dark photos, red-eye reflections, and unflattering portrait lighting, consider adding a simple diffusing accessory to your flash lighting.
Diffusing your flash scatters and softens the harsh shadows that come from using your speedlite directly aimed at your subject. This type of light modifier works with any Canon EOS Rebel cameras that use a Canon Speedlite.
Accessories should be judged on how well they perform the intended task, how long they last, and how much they cost. This accessory will soften the harshness that comes along with direct flash from a speedlite and it easily fits in your pocket.
---
Strengths of the FLASH diffuser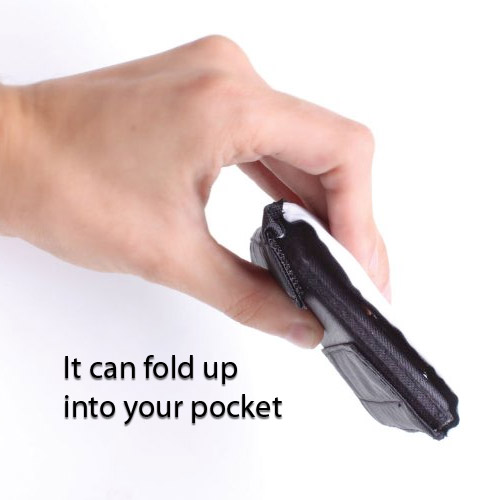 It is very affordable - it's really a joke how much it costs.
It will diffuse the light and reduce the sharp-edged look of a speedlite, particularly with close objects.
It can be folded up and slipped into a pocket, a purse, or small camera bag.
You don't need a bracket to raise the speedlite flash higher above the camera in order to use the softbox.
Weaknesses of this Canon Accessory
It will reduce the light output of the flash and may limit the distance of its effectiveness.
It isn't made out of high-end material like titanium.  Treat it gently if you want it to last.
The soft-box lighting effect that this accessory will produce has a limited range because of its small size.
Here's the deal. You've got lots of affordable options with different designs and different price tags.
You can get additional opinions and pricing on a few different specific models of small speedlite soft boxes on Amazon.
Not so Good Canon Speedlite Accessory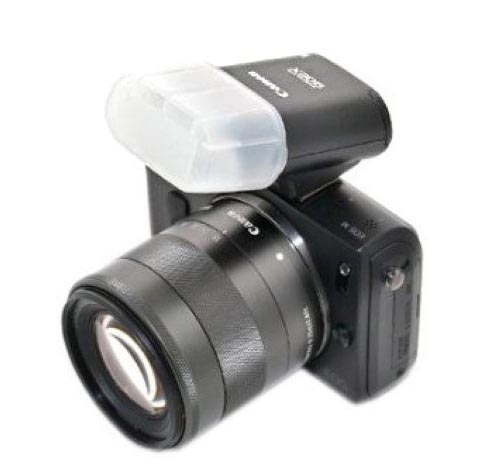 The little snap-on type of diffusers are usually not as good at softening the light significantly for you to notice as dramatic a difference as the softbox style.
They do scatter the light and are much better than the straight built-in flash that pops up on your camera. If there are nearby ceilings or walls you will get some additional fill light bouncing back into the scene.
They do not enlarge the size of the light source when used on a Canon speedlite, but they are real cheap to buy and easy to use and play around with.
This video does a great job of showing you the difference between using no diffusion, using a pop-on diffuser, and using bounce flash.
Diffuser for Bare Bulb Flash Units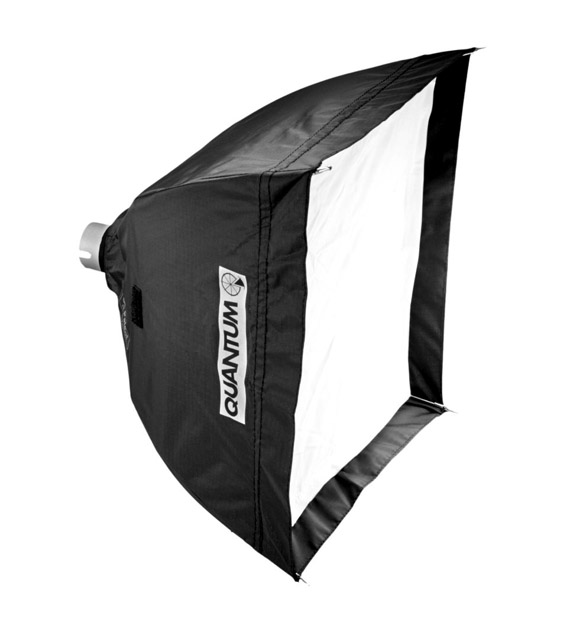 This is a large flash soft-box made by Quantum Instruments.  It's no good as a speedlite accessory because there's no practical way to attach it.
That's too bad because it really does a great job at softening up the light.It is designed specifically to work with Quantum's bare bulb system.
The Q-flash can be mounted on a bracket to extend high over your camera or can be mounted to a light stand and suitable brackets. That's one of best features of this small soft-box.  It's really simple.


Bruce Lovelace is the publisher of Canon Camera Geek. Read more about him on the About Page. He also publishes how to articles and camera gear reviews at the Photography Tips website.
View some of Bruce's photos on Instagram  and Flickr.   Join the Tribe: YouTube. Visit the Canon Geek FaceBook Group. Bruce runs photo workshops and provides 1 on 1 digital photography coaching.
Places to Buy Speedlites and Accessories
Using one of the vendors below helps me keep this web site going and it costs you nothing extra.