Canon 60D Review
It is the opinion of this Canon 60D Review that it is a camera well worth considering.  It is quite true that the Canon EOS 60D was a puzzling follow-up to the 50D, but that shouldn't disqualify it as a viable candidate for a good camera to claim as your own.
Canon EOS 60D Advantages
Here are a few of the pluses of the Canon EOS 60D vs. 50D
Almost 20% more pixels with higher native ISO sensitivity
Better battery, the LP-E6 which also goes in the 7D and 5d Mark II and has higher capacity.
More information is displayed in the viewfinder.
Built-in remote flash control
List price is about 40% cheaper
Tilt and swivel LCD -  I love this
HD Movie capture, 1080p (30/24fps)
Five-stop esposure overide, instead of just two-stop
You can get a lot more Canon camera accessories with the hundreds you save my buying the reasonably priced 60D.  I found this kit (photo below) on Amazon and felt compelled to share it with you.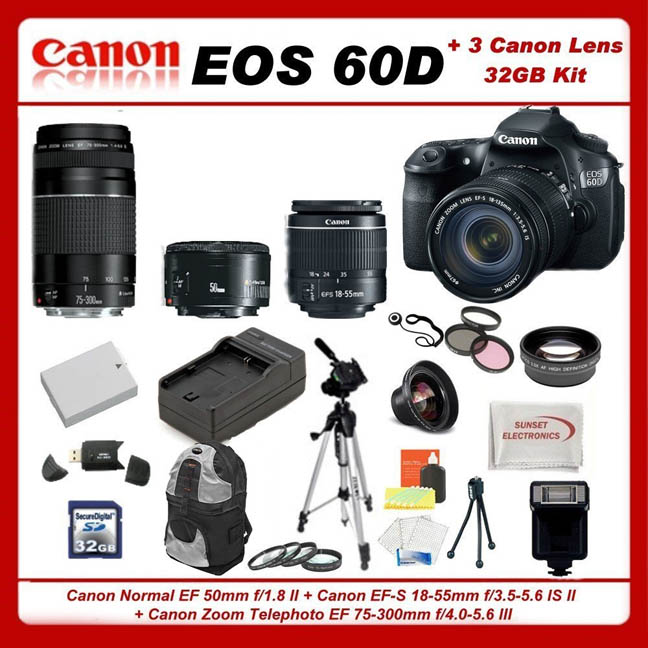 The kit comes with an 18-35mm lens, a 75-300 powerful zoom telephoto, a real fast 50mm f1.8, .45x Wide-Angle, and a 2x tele-converter. But wait, there's more!  Also there is a dedicated flash, a backpack, an extra battery and charger and quite a few other useful accessories.
I am not usually a big fan of buying kits, but this one packs a lot of value for the money so I am giving it a mention in this Canon 60D review.
The 60D is not really a direct replacement of the Canon 50D.  Because of its improved image quality and great low light performance, it could be thought of as a more modern one.  Some people are quickly biased against it because of its plastic, not metal body.
Realistically, the plastic will be plenty tough enough unless you are taking along on an abusive tough mud-run and plastic feels a little "warmer" to the touch anyway. I encourage you to consider what needs and wants you have first for your digital camera, rather than look at a specific camera and see if it fits your needs.
There certainly was a progression with the 10D, then 20D and so on through the 50D.  The unique direction of changes from the 50D to the 60D made it a more intriguing upgrade to consider. Comparing Canon camera models has always a popular thing to do among Canon fans and the Canon T3i vs 60D discussion is no exception.
Both of these cameras come with a lot of possibilities for Canon Rebel Accessories to add to your arsenal of photography equipment. I added an entire page of close up photos of the Canon 60D Body if you'd like to see all of the buttons and dials on the camera.
Do you like to take pictures of people?  The 60D has quite a few options available to you for portraits.  You might want to consider which is the best canon lens for portrait photography with your 60D.
Just remember to have fun as you grow your photography skills and enjoy the process. Shoot more, watch less.