Canon EOS 70D Dimensions
The Canon EOS 70D dimensions make it an easy fit in the palm of your hands. It might become your preferred camera to take with you everywhere you go.
I always have my 70D with me on short photo excursions. Its dimensions are my 2nd favorite feature about this camera. It's small. It's light and it' easy to handle. 
How big is the EOS 70D? Here are the exact and not-so-exact length, depth, and height of the 70D.

The Canon EOS 70D Dimensions - Precise and Rounded Off
5.5  x  4.1  x  3.1 inches     OR      About  5 1/2   x  4  x  3

Canon EOS 70D vs 5d Mark III Size Comparison


Here's how the 70D compares to a regulation size cue ball.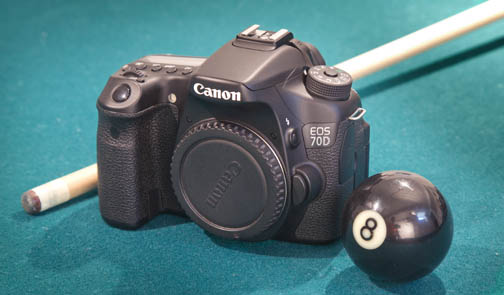 Canon EOS 70D size comparison with a billiard cue ball


Here's how the EOS 70D measures up with a metal tape ruler.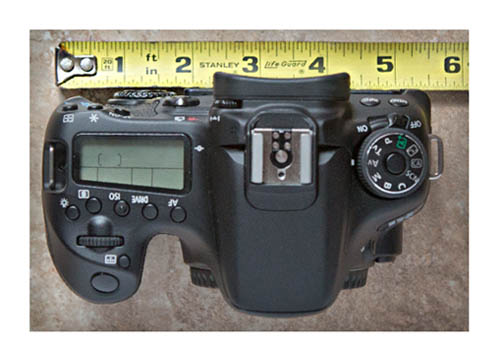 5.5 Inches


How Heavy is the Canon EOS 70D
The second physical specification that people want to know about is the weight of the Canon EOS 70D.
The EOS 70D weighs about the same as a pound of coffee, or a little more than a football.  That's not even enough to stimulate a bathroom scale.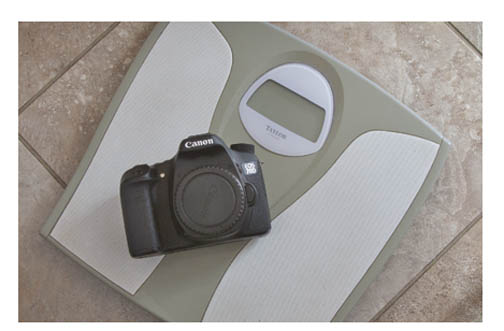 Canon EOS 70D is too light to weigh on a bathroom scale
You can find all the specs on the Canon 70D in lots of places, but I wanted to do my own 70D weigh-in using my wife's new kitchen scale.
How heavy is it according to my test? It weighs a little over 1 lb. 

My wife's food scale says the 70d weighs 1.1 lbs.
Imagine yourself holding a standard box of spaghetti. That's all it weighs and it's a full-featured DSLR capable of taking great photos.
Consider a few other important dimensions of the EOS 70D.
Canon 70D LCD Screen Dimensions
Another one of the dimensions that you pay attention to is the size of the LCD screen. The 70D has a 3.0 inch screen.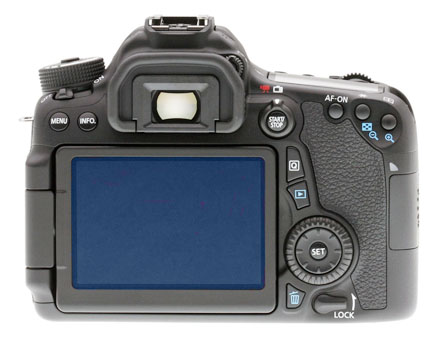 LCD = 3 Inches
That's plenty big enough for you to change camera settings, view our images, zoom in and check focus, or even look at the histogram for exposure.

Canon 70D Grip Dimensions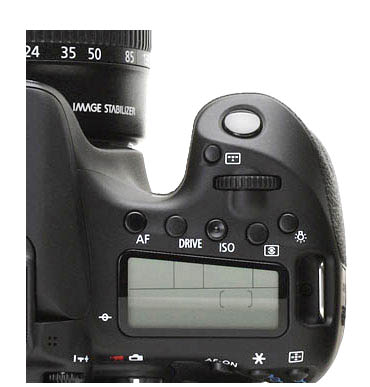 Canon 70d Finger Grip
The dimensions of the grip may be just as important to you. If have unusually large hands, you might it to be a little cramped.
The grip is about 3/4 inch deep and about 1/2 inch wide in the middle of its U-shaped area. I am 5' 10'' with average sized hands and I have plenty of finger room to grip the 70D securely. 
EOS 70D Sensor Dimensions
You'll like the size of the 70D sensor too. It's over 20 megapixels on the standard APS-C format. You can use any of the EF or EF-S  lens on the 70D.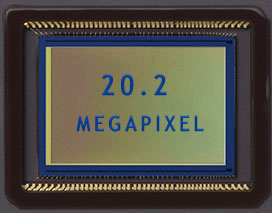 70D APS-C Sensor
That's still plenty enough for large group photography. It will provide you enough pixels per person to capture fine details.
3 More Favorable Characteristics of the Canon EOS 70D
1. Focusing performance
The dual pixel sensor is more that just a fancy name. It really is fast and accurate. You better focusing when shooting video too.
2. High ISO Performance
You can shoot at higher ISOs and still get pleasing results.   More natural light portraits without flash. Not as good as the full frame pro DSLRs, but plenty good enough to keep you happy with the quality you get.
3.Touch Screen
Using a touch screen was something I avoided until I got my 70D.  Maybe it was my irrational fear of change. I always wanted to use the regular knobs and buttons.
Perhaps it was a false belief that amateurs use the screen and pros use the buttons.  i am over that finally. Once you get used to it, you;ll find i[out it's really a quicker way to work with your 70D. The best feature that relates to the Canon EOS 70D dimensions is that it feels just right. It's a perfect fit in your hands.  That makes the whole photography experience more enjoyable.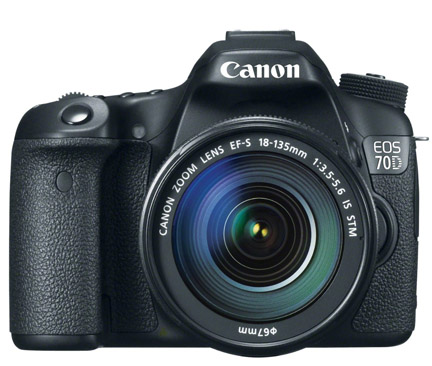 EOS 70D


Have a blast! Watch less TV. Shoot more Canon EOS 70D photos.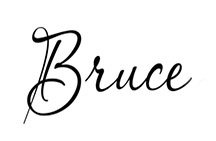 Bruce Lovelace is the publisher of Canon Camera Geek. Read more about him on the About Page. He also publishes how to articles and camera gear reviews at the Photography Tips website.
View some of Bruce's photos on Instagram  and Flickr.   Join the tribe of followers on YouTube. Visit the Canon Geek FaceBook Page. Bruce also runs photo workshops and provides 1 on 1 digital photography coaching.
---
---