Canon 70d Kit Lens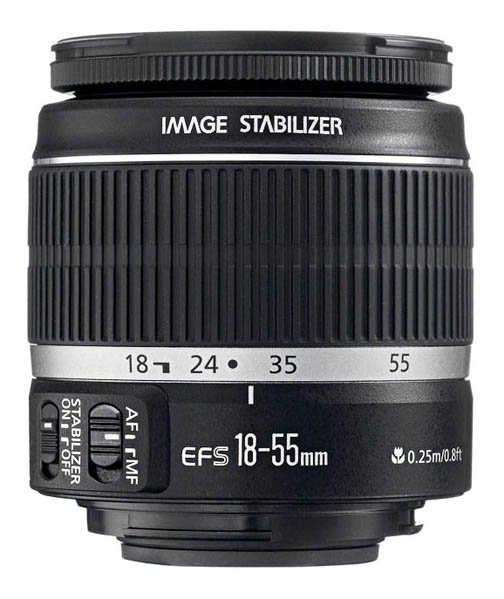 Canon 18-55mm Kit Lens
The most common Canon 70d kit lens is the 18-55mm f/3.5-5.6. It's one of 3 possible choices for your 70D and other Canon "crop sensor" cameras like the 80D, "t" series of cameras. The Canon EF-S 18-55 (focal length) is one of the most affordable  lenses to use with your EOS 70D camera body.
It's an okay starter lens for photographers new to the digital single lens reflex (DSLR) game. I must confess that I never purchased a kit lens for my EOS 70D. The 70D is the 5th Canon DSLR I've owned and I already had a collection of Canon lenses, most of which are the professional "L" lenses.
I do own one, but never use it personally. The one I have was donated to me and is used when one of my students in my Inspire Kids Project doesn't have a camera. I use either my EF 24-105mm f/4 or a Tamron 17-35. With the 1.6x crop factor, on the 24-105 I get a 38-170 equivalent which is good for portrait photography. The 70D is my backup for my Canon 5D Mark III when I'm shooting a job for a client.
Okay enough about my 70D kit lens, what about yours.
What lenses fit your Canon EOS 70D
You can use any lens that has the Canon lens mount. That includes EF-S and EF lenses. That includes lenses made by Canon, Tamron, and Sigma. How do you choose which one to get?
When it comes to choosing, the two most important factors are price and zoom range, with price being the first thing you're going to look at when searching for the right kit lens. That's unfortunate because there isn't a big price jump to get the 18-135 lens and you get a whole lot more versatility. 
kit lens size comparison
The 18-135 gives you a much better zoom range (about 7x) than the 18-55 (about 3x) but at the cost of a little bit bigger size to carry around with you.
Canon 70D + 18-55 Lens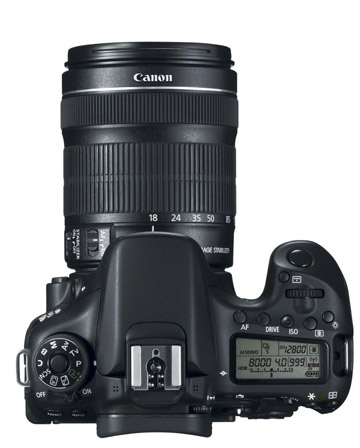 Canon 70D + 18-135 Lens


Which version of the Canon 70D kit LENS is better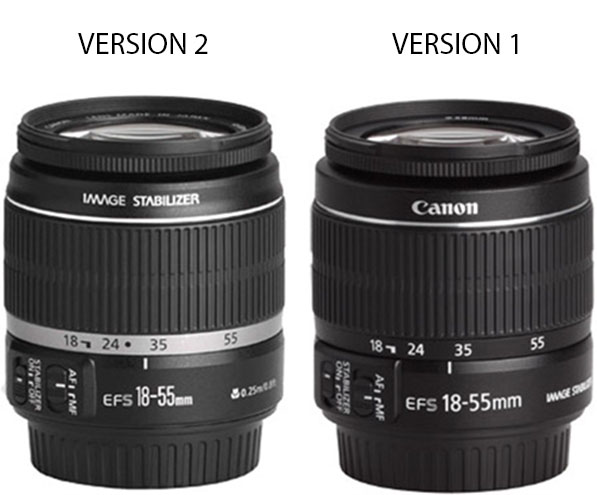 Because the 18-55mm lens is not a "fast" lens you might have issues with image blur from slow shutter speeds. That why I recommend the newer version of the lens, Canon EF-S 18-55mm f/3.5-5.6 IS II Lens.
The image stabilization will help you get sharper images in dimly lit shooting situations. You can cut down on the blur by as much as 3-4 f/stops.
Advantages of buying a Canon 70D Kit Lens
PRICE. Selling at around $200, you can't go wrong with the 18-55 kit lens if you're a first timer or beginner. Size. It's small and lightweight. You won't mind carrying it around with you and that means you'll use it more.
SIZE. They're relatively small and they don't add much weight to the overall weight of your 70D camera body. It's one way to make it easy and more convenient to carry your 70D with you wherever you go.
Disadvantages of Buying the Standard Kit Lens
LIMITED ZOOM RANGE. With only a 3x zoom, you don't get a huge range of focal lengths. The telephoto maximum of 55mm is limiting. This makes it a really poor lens for shooting your kids soccer game, photographing wildlife, or any other long distance subject.
SPEED. Kit lenses don't have wide maximum apertures. They aren't good when it comes to dim lighting conditions and you can't get the same pleasing out-of-focus backgrounds.
This is particularly true when you zoom in closer. See the chart below.

WHY DOES THIS MATTER? There are situations where you may want to have the background very much out of focus. In scenarios like this fast lenses with maximum apertures of f/2.8 or f/2.0 perform much better. Of course lenses with wider openings are bigger, heavier, require more glass and are therefore more expensive than kit lenses.
The Ultra Kit Lens
Canon does make a faster version of the kit lens for its line of APS-C cameras like the EOS 70D.
It's a 17-55mm f/2.8 lens.
It's great for dim light shooting and getting a nice shallow depth of field when you want.
It sells for around $800. I just think there are smarter choices.
---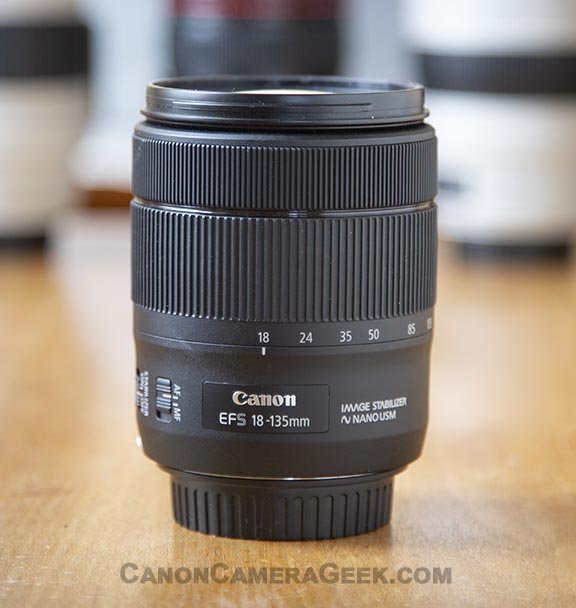 My Favorite 70D Kit Lens
Canon EF-S 18-135mm


If you're going to spend that much on just one lens for your 70D, get something with a larger zoom range.
I bought one even though I already have an 18-55mm kit lens as well as a Tamron 17-35 f/2.8-4.0. It also fits my Canon 90D.
The Canon EF-S 18-135 is a much better choice if you are going with one single lens. It has the same maximum apertures at the 18-55 kit lens.
It has a lot more zoom range, 7.5x instead of 3x like the 18-55, and cost about $300 less than the 18-55 f/2.8. That $300 savings could get you some cool accessories for you EOS 70D.

NON-Canon 70D Kit Lens Upgrade
You also have the choice of getting a lens for your 70D that is not made by Canon and you won't be punished for it.
Although I am a Canon Geek I own and use two NON-Canon lenses too. I use a Tamron 10-18mm on my 70D when shooting wide angle landscapes and a Tamron 17-35 on my 5D Mark III 
You can also consider a Tamron 18-200 as a good choice as a kit lens on your 70D. That gives you more than a 10x zoom range, making it a great lens for landscapes as well as sports and wildlife.
Tamron 18-200mm Macro lens
It has a huge zoom range, the equivalent of a 28-320mm.
It's bargain priced at less than $200. That's a lot of capability for a delightfully affordable price.
Consumer reviews are overwhelmingly positive.
Whatever Canon 70D kit lens you get, realize that you're getting a lens that can handle a lot of photographic situations. 

Zoom lenses give you the ability to change magnification and perspective and create different views of the same subject. The main advantage of buying any kit lens along with your 70D is the overall savings you get. 

final remarks on 70D kit lenses
I probably come of as being quite negative about the standard Canon 70D kits lens that most sellers choice to offer when they're offering 70D cameras for sale. Despite that, It may be the perfect fit for you.
If you like to keep things basic and at the most affordable level, the 18-55 lens is a solid choice. You know you'll never have compatibility issues. It's an older design, but will be very reliable and functional with your 70D.
It's more likely that you invested in a 70D because you have a strong desire to take your photography to a higher level. The great capabilities of the Canon EOS 70D call for a lens with matching capabilities. No matter what direction you travel, have a blast.
Because of today's technology, it's an amazing time to explore the world with photography and you have the tools to create some amazing photographs.

Have a blast. Shoot a Canon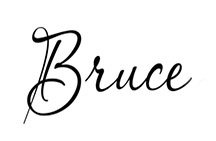 Bruce Lovelace is the publisher of Canon Camera Geek. Read more about him on the About Page. He also publishes how to articles and camera gear reviews at the Photography Tips website.
View some of Bruce's photos on Instagram  and Flickr.   Join the tribe of followers on YouTube. Bruce also runs photo workshops and provides 1 on 1 digital photography coaching.
---
---
---