Canon 70D Lenses


(

EF-S Lenses

)




You have many Canon 70D lenses available to choose from. The Canon EOS 70D has a Aps-C sensor so you do not need to get one of the Canon EF lenses.  
You can save money by getting one of the smaller EF-S lenses. I have full-sized and APS-C Canon cameras so I primarily stick with EF lenses so that I can use them on all of my DSLR bodies.
Some photographers use alternative lenses made by other lens makers but that is a topic for another day with other issues to consider regarding quality and price.
Canon General Purpose Lenses for The 70D
---
Canon EF-S 18-55mm f/3.5-5.6 IS II SLR Lens
The Canon EF-S 18-55 is the most popular lens for the 70D.  It gives you a moderate wide-angle to moderate telephoto range.
It comes in as one of the most affordable zoom lenses you can get for this camera.
One of the reasons for it being a #1 Best Seller on Amazon is because it is less than $200 which is much lower than  the other Canon zoom lenses.
Another reason it is popular is that it has excellent optics.

---
Canon EF-S 18-135mm f/3.5-5.6 IS STM
This is the more versatile version of the 18-55.  Instead of a zooming range of 3x, the 18-135 gives you a 7.5x zoom range.
That's the equivalent of a 28-216mm range on a full-sized sensor camera.

This lens earned an impressive 94% CanonGeek 4-5 rating. It is about triple the price of the 18-55 because of the extra "glass" and it's more powerful zooming ability.
Canon Telephoto Lenses for the Canon 70D
---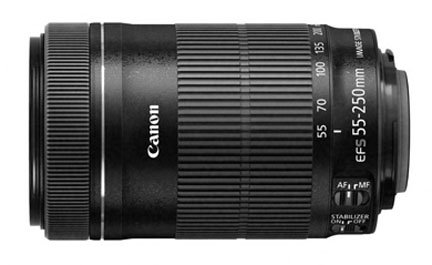 Canon EF-S 55-250mm F4-5.6 IS STM Lens
This Canon zoom has a nice power range for sports and wildlife photography.  It's impressive closest focusing distance is a little under 3 feet.
Although not particularly fast for super shallow depth of field or low-light photography, the 55-250mm can double as a portrait lens and a sports lens in many photographic situations.
As of today, at the time of this article's publication, the Canon 55-250  f4-5.6 IS STM lens earned a 100% Canon Canon Geek 4-5 rating.
This Canon 70D lens weighs less than a pound (only 13 ounces) and the image stabilizer has a 3.5x f-stop shake correction.  This is very valuable at full zoom (400mm equivalent)  in handheld shooting situations.

---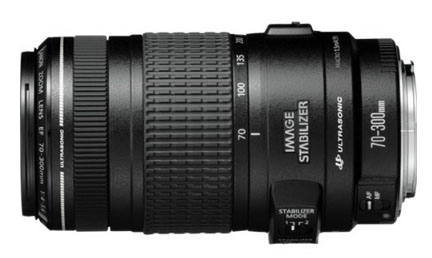 Canon EF 70-300mm F4-5.6 IS USM Lens
The 70-300 is one of the most powerful Canon 70D zoom lenses and will fit EF and EF-S cameras. It has a 112-480mm equivalent zoom range on an APS-C camera like the Canon EOS 70D.
It has a zoom ring lock to prevents lens 'creeping' when you are moving or shooting. It's closest focusing distance is almost 5 feet.
It is long enough to use as a decent bird lens.

Specialty Canon 70D Lenses
---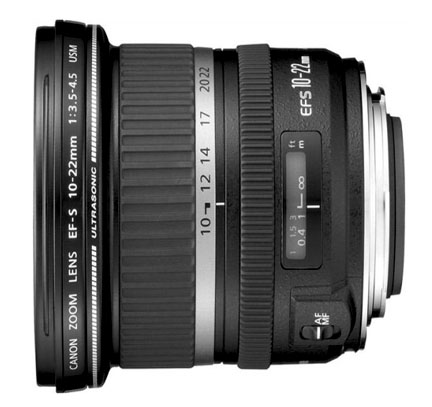 Canon EF-S 10-22mm f/3.5-4.5 USM SLR Lens
This super wide-angle lens has a lot of fun attached to it because of it angle of view and strong perspective you can achieve with it.
As one of the Canon 70D lenses, it has an equivalent to a 16-35mm lens on a full-sized sensor.
Great for landscapes and shooting in tight interiors where you want to fit a lot in your photo.
---
Canon EF-S 60mm f/2.8 Macro USM Lens 
This macro lens focuses down to about 3.5 inches and achieves a true 1:1 macro magnification. 
This is great for extreme close-ups except when photographing insects that get nervous at such close distances.

It earned a very impressive 95% CanonGeek 4-5 rating.  Macro lenses are one of the Canon eos 70 accessories that the beginning  photographer can have a lot of fun with.
Easy to use and made for a specific kind of photography.

---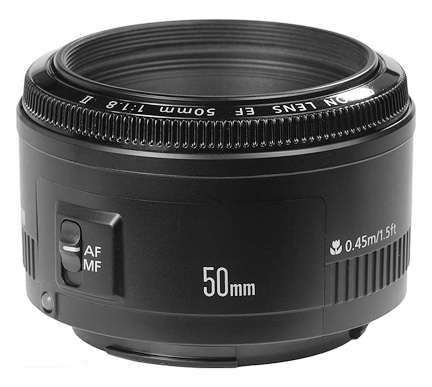 Canon EF 50mm f/1.8 USM Lens 
Although this is perhaps the best selling NON-zoom lens of all time because it is so affordable for everyone, I can't recommend it.

Biggest issue with this lens is not the quality of the images it takes but with the quality of construction.
Some buyers have had the lens fall apart after a very short time and others have had the plastic mount break, making it very difficult to remove from their camera body.

Both the 50mm f1.4 and the Canon 50mm f1.2 are higher quality lenses, have much better customer reviews, and are good choices as Canon 70D Lenses.
---
---
Alternative Canon Zoom Lens
Canon really doesn't have anything with this zoom ration so I am including this Tamron as a possible consideration for you. Tamron makes one too. If you'd like to get up close and personal to your favorite athlete, the Tamron 150-600 has some serious zooming power for an entry-level price.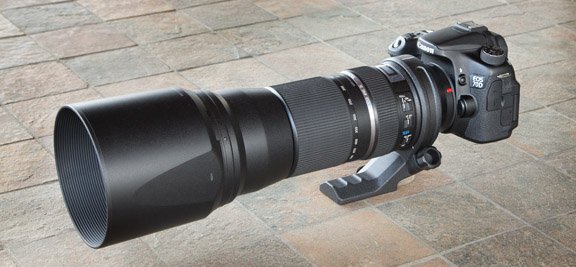 On the EOS 70D, this lens gives you the same view as a 240-960 zoom lens and it's less than $1000. If you'd like to be able to shoot wildlife or birds from a distance, the Tamron is a good alternative to one of the $8,000-$12,000 Canons.
Watch less TV. Shoot with your Canon more.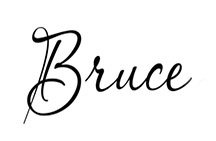 Bruce Lovelace is the publisher of Canon Camera Geek. Read more about him on the About Page. He also publishes how to articles and camera gear reviews at the Photography Tips website.
View some of Bruce's photos on Instagram  and Flickr.   Join the Tribe: YouTube. Visit the Canon Geek FaceBook Group. Bruce runs photo workshops and provides 1 on 1 digital photography coaching.
---
I am a frequent buyer for many things from Amazon, including cameras and accessories. I like the free two-day shipping I get as a
Prime Member
, the liberal money-back return policy, and the great prices.
I also learn a lot about products by reading the customer reviews written by everyday people, not professional reviewers.
Here is more of that feedback on
Canon EF-S 70D Lenses Reviews on Amazon.