Canon 70D Accessories
Are you looking for worthwhile Canon 70D accessories? You can divide accessories for your EOS 70D into 3 categories. The 3 types of gear that are good for Canon DSLRs like yours with an APS-C sensor are 1)Must-have, 2)Advanced, and 3) Gadgets strictly for fun and creativity.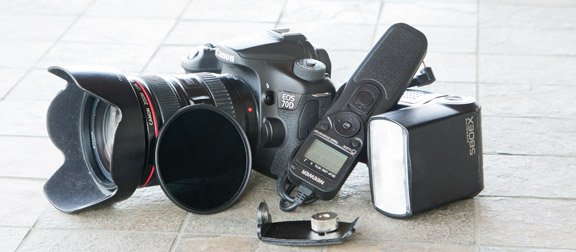 The 3 Types of Accessories for Your Canon 70D
MUST HAVE. There are a few essential 70D Accessories that every photographer should have at their disposal for common everyday photo taking opportunities.  

ADVANCED. Secondly, there are those canon camera accessories that we could categorize as add-ons that are for the serious photographer.
JUST FOR FUN. And finally, there are some great camera accessories that normally don't come to mind to most photographers, but are either just cool gadgets to have for fun or are for very specific photography uses.
Added Accessories Means Added Fun For You
I encourage you to consider buying one of the Canon 70D guide books.  You spent your hard earned cash on a very sophisticated piece of camera equipment. You can learn a lot on basics as well as some fun and creative possibilities to take some really great photos.
The standard Canon 70D manual does a good a good job of teaching you how to control of the settings, menus, and programs. Guide books usually give you  more practical tips and features to take advantage of when you are exploring all of the capabilities of a new camera.
Professional 70D Accessories
Speedlites
Probably the most important accessory for the serious or pro photographer to use with their Canon EOS 70D is the speedlite. Let's face it.  Although the built in, pop-up flashes are convenient, they give pretty mediocre and sometimes very poor results. 
Photography has been called "painting with light" and good lighting makes for good photographs.
To get professional results, speedlites should have the ability to both bounce and swivel to give you the flexibility to adjust the direction and quality of light.  There are also dozens of speedlite accessories to modify and enhance the light form a speedlite.
Canon makes a complete array of add-on flashguns to choose from. The 580EX II and  the 600EX-RT are the most advanced and sophisticated speedlites.  You can view and read reviews on the entire Canon Speedlite line here. 
Battery Grips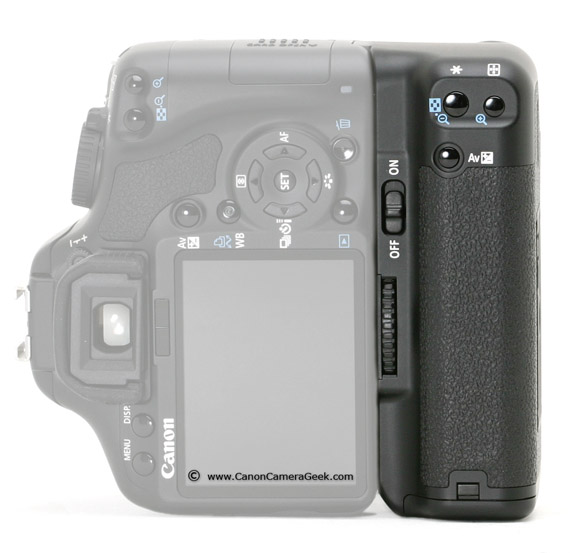 Battery Grips proved extended shooting time without changing batteries. They are also good for giving you more ergonomic access to all of your 70D camera settings while shooting in a vertical, "portrait" orientation.
Many Canon shooters also feel that the weight of the battery grip gives a more balanced feel when shooting with long lenses. The 70D takes a  Canon BG-E14  Battery Grip.
Most Needed - Essential Canon 70D Accessories
1. Memory Card
Not remembering to have enough camera memory is a cardinal sin. Canon memory cards are dirt cheap, have high capacity. Make sure they have decent read and write speeds.  The 70D takes SD, SDHC, SDXC memory cards.
2. Spare Battery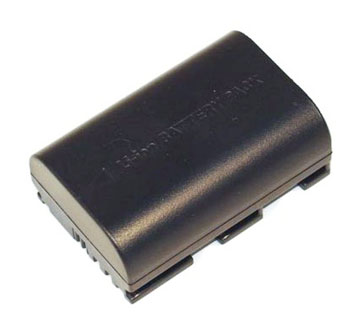 This is less of an issue now than than ever before, due to big improvements in battery and camera design.  
It's still very important to have a spare and the right charger, so you can change batteries right away if you are in the middle of an important photo shoot. The Canon 70D takes the LP-E6 which will last for hundreds of photos.  Here is more on the Canon 70D Battery.
You can save a lot of money by buying equivalent batteries made by Photiv, Wasabi, or Celltime.  Make sure the dealer has a good reputation and a good return policy. At least one spare battery is a must item to include in your Canon 70D accessories category.
3. Canon Digital Camera Bag
The Canon 2400 SLR Gadget Bag for EOS SLR cameras is the top rated Canon accessory for holding a camera, lenses and related items.  It is a big bag and has room, lots of storage pockets to hold a nice variety of accessories.
Here are some thoughts on what to consider with Canon Digital Camera Bags.
4. Tripod or Monopod
Some would say a tripod or a monopod is one of the Canon 70D accessories that is really just for the professional photographers.  The 70D is more of a high performance camera and typically not just for the snapshot shooter.
Tripods a very useful in some situations and absolutely critical in others. Tripods come in real hand for portrait taking when you want to set your camera and have the ability to watch your subjects without having to look at an LCD screen or through a viewfinder.
I had to mount my 70D on top of a tripod for the 0.5 second exposure of this full moon beach scene.
Tripods are also necessary for close-up macro photography and night-time photography. The Canon Tripods are not one of my highly highly recommended gadgets from Canon. Canon Corporation made a good decision to focus on digital cameras, lenses and related accessories rather than venturing into the tripod market. 
Fun Canon 70D Accessories
These are the best Canon 70D accessories for adding some fun and creativity to your photography. Not required, but definitely worthwhile, check out these optional accessories for your 70D.
Canon's 270EX II Speedlite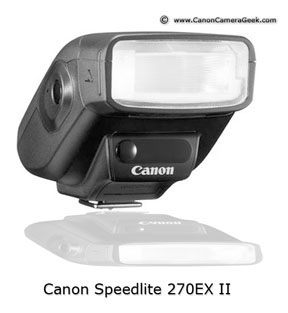 The Canon Speedlite 270EX-II is a big jump in lighting power and versatility over the dinky pop-up flash that is built in to the Canon 70D.
It's small. It does tilt and zoom but it doesn't swivel.  I like mine and I do carry it with me frequently because it is so small and convenient.
Bounce lighting is the best way to avoid red-eye reflections that are so common when using an in-camera flash where the flash is too close to the lens. See Diagram Below.  The light travels directly from the the built-in flash to the back of the eye and reflects directly back to the camera sensor.
Any lighting accessory that diffuses,  re-directs or bounces the light is better than built-in flash of the Canon EOS 70D.

---
Extension Tubes
For me, this is the best way to enter the world of macro photography in a real affordable manner.  You can purchase a decent set of tubes (They don't have to be Canon-Made Accessories) at a reasonable price.
Advantages of extension tubes:
No degradation of image quality by adding extra glass elements.
Variable magnifications possible with different combinations within the set of tubes.
Can be used with any of your existing lens collection.
Here is more on Canon Extension Tubes.
Remote Control
Another one of the Canon 70D accessories that I label as fun is remote control. There are some with very simple options like a shutter-release-only model like this one pictured here.
You can also get more sophisticated ones and control several camera functions. The Neewer LCD Timer-Shutter Release-Remote Control gives you the ability to shoot really fascinating time lapse photography.
LCD Timer Shutter Release Remote Control
EOS 70D Timer,Time-Lapse
Remote Shutter Cord


Heck, you can even get apps that let you take pictures remotely with your smart phone.
Canon 70D Video Accessories
The new Dual Pixel Auto-focus system and Movie Servo Auto-focus make accurate focus of moving objects great for shooting video.  
Add in the swiveling screen, built-in STEREO microphone a quiet STM motor and you've got incredible 1080p HD video capabilities.
Canon Specialty Lenses
There are too many to include in detail within the scope of this article, but I'll mention two.  The large majority of Canon 70D owners either already possess a regular zoom lens or get one when they buy their 70D.  Typically it may be the 18-55mm or the 18-135mm kit lens.
On a Canon 70D (with a 1.6 crop factor) this lens has the perspective of a 640mm lens.  Great for wildlife photography and big field sports like soccer football and baseball.
This is definitely one of the more expensive Canon 70D accessories.  This lens is still only a fraction of the cost of one of the fast Canon Super Telephotos, like the Canon 400mm f2.8 or the Canon 500mm f4 lens.
Want to go a little cheaper than the Canon 400mm f5.6? Here are more affordable and popular options for Canon 70D Lenses. I recently added the Tamron 150-600 to my collection of Canon 70D accessories.
If you'd like to amp up your ability to shoot birds, wildlife, or sports photos, the Tamron 150-600 is a lot of power for its price.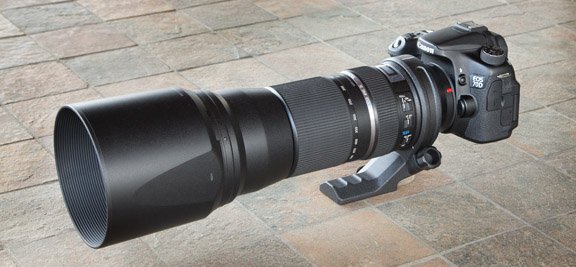 Canon EOS 70D and Tamron 150-600 Lens
As an f/5.6-6.3 lens, it's certainly not going to win any speed wards for maximum aperture, but with today's high ISO cameras, you can really "cheat" and save huge amounts of money. 

A comparable 400mm f/4 lens will cost close to $7000.
A 600mm f/4 will cost you over $11,000.
The Tamron zoom is more versatile and costs less than $1000.
On the Canon 70D, the Tamron gives you the equivalent view of a 240-960mm zoom. 
For more information on the Canon EOS 70D features and functions you can refer to the free pdf Canon 70D Manual.

Whether you categorize them as fun, serious or essential, there is no shortage of camera accessories, gadgets, gizmos and add-ons to have fun with. Shoot more photos. Watch less TV.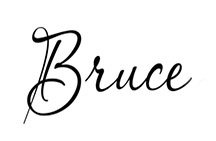 Bruce Lovelace is the publisher of Canon Camera Geek. Read more about him on the About Page. He also publishes how to articles and camera gear reviews at the Photography Tips website.
View some of Bruce's photos on Instagram  and Flickr.   Join the tribe of followers on YouTube. Bruce also runs photo workshops and provides 1 on 1 digital photography coaching.
---
---
---