Macro Photography With a Canon G1X Mark II
(The Non-Flower Edition)
Good macro photography with a Canon G1X Mark II is yours with a few simple techniques. The lens redesign from the original Powershot G1X lets you get within two inches of your subject at the wide angle setting of your G1X Mark II.
The lens upgrade was great news for macro photography enthusiasts who want to shoot close-ups without a DSLR and want better quality than the traditional point and shoot camera.
This was the last photo of the three close-up images I shot with the Mark II in this exercise. It's technically not a macro shot.  It's not THAT close, but it's a photo that reveals some detail that we ordinarily don't pay attention to.  

Shooting Tips for Macro Photography with a Canon G1X Mark II
USE A TRIPOD.  Not just to minimize camera movement blur but also makes precise focusing possible by keeping the distance to the subject consistent.

CABLE RELEASE

.  Use a cable release or the self-timer.  I used the self-timer function with these photos.  Using your finger on the shutter button can easily result in  a lack of sharpness due to minute camera movement during exposure.
MANUAL FOCUS.  The G1X Mark II automatically gives you a magnified image for fine adjustments when focused this close to your subject.  It even has a sliding distance scale appear on the LCD screen (or inside the

EVF Viewfinder

)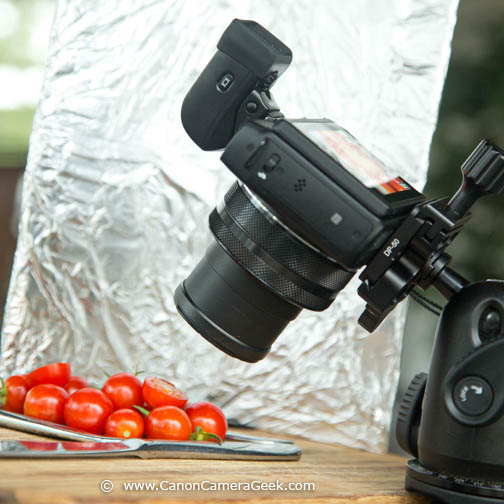 Tomatoes Up Close


Here is the set-up I used. My G1X Mark II is mounted to my tripod. The subject is paced quite close to the corner of the table.
The main light is from behind me when I took this photo. That is to the left of the subject from the G1X Mark II perspective. This is on my screened in porch where two entire "walls" are screened windows which provide a very large, diffused light source.
The silver colored fill on the far side of the tomatoes is cardboard wrapped in aluminum foil. I use this or a simple white card quite a bit when shooting. When I am forced inside I have used my 270EX II Speedlite for bounce light macro photography.
Customer Reviews on the Canon Powershot G1X Mark II
Have fun with your macro photography!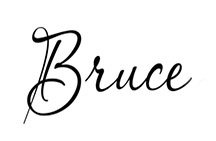 Bruce Lovelace is the publisher of Canon Camera Geek. Read more about him on the About Page. He also publishes how to articles and camera gear reviews at the Photography Tips website.
View some of Bruce's photos on Instagram  and Flickr.   Join the tribe of followers on YouTube. Visit the Canon Geek FaceBook Page. Bruce also runs photo workshops and provides 1 on 1 digital photography coaching.
---
---