Canon G1X Mark II Lens Design
The Canon G1X Mark II Lens design is what makes this camera work so well.  It's the convenience of a point and shoot combined with the behavior of a DSLR.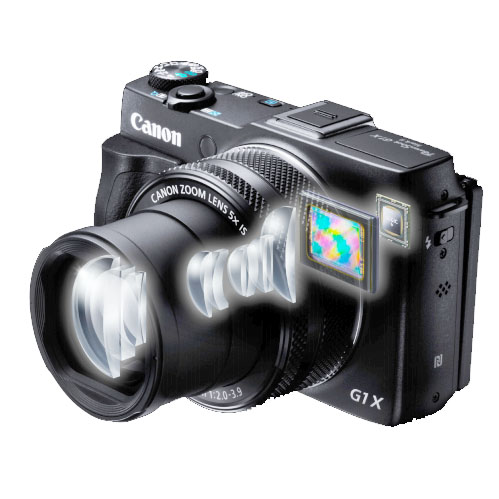 The lens design improvements are significant over the first G1X design.  It's a significant investment to own one of these cameras, but if you feel you deserve it, I don't think you'll be disappointed.
Canon G1X Mark II Lens Design Challenges
Because the G1X Mark II has such a larger sensor for a compact camera, the lens element closest to the sensor has to be big also.  That rear lens element is involved in focusing and it has to move with speed and precision.
Although the Mark II can't be labeled as a speed demon, it is a marked improvement over its predecessor, the original G1X.  Canon improved the auto-focus speed by employing a shorter distance inner focus lens group.

The lens barrel design division team at Canon had to work closely with the factory.  The Mark II barrel needed more processes than before.  New production machinery had to be introduced that maintained precision down to the individual micron level.
| | | |
| --- | --- | --- |
| | The lens barrel design includes two control rings that make it feel like you are using a DSLR | |

The 2nd most important feature of the G1X Mark II
It's the viewfinder.  
I guess you can call me "old school."
I've never adopted to using an LCD screen to compose my photographs.  
Of course that's the only way to take photos with my cell phone camera and I am forced to adopt it there, but I still find it inherently awkward.
The EVF electronic viewfinder on the G1X Mark II makes me feel like I am shooting with a DSLR. It's 100 % accurate.  It's bright and gives me all of the camera setting information I need.
The Mark II Lens Diaphram
One of the other disappointments with the first G1X was the lens's maximum aperture of f/2.8.  The Mark II lens is capable of f/2.0 at wide-angle settings and has a bigger maximum aperture at the telephoto settings too.
Another improvement in the Mark II lens is its close-focusing macro abilities. It focuses at distances of less than 2 inches from the subject when at the wide-angle lens setting.
Here are some sample macro photos of flowers taken with the Powershot G1X Mark II. The first G1X had a minimum focusing distance of about 8 inches.
| | | |
| --- | --- | --- |
| | If you enjoyed this article on the Canon G1X Mark II lens design please share it with a friend | |
Have a blast with your photography!
Bruce
Customer Reviews of the Canon G1X Mark II
Go to Canon Camera Reviews Home Page