View Photos Taken With The EOS 70D
Here's another opportunity to view photos taken with the EOS 70D in addition to some of the other articles written covering the 70D. This Canon DSLR was introduced in 2013, but is still good, and is worth using to get quality photos.
I've been having so much playing around with this camera-I'm like a kid at Christmas.  Lets start with some 70D sample images of close-ups I took using the 70D with a NON- dedicated macro lens, one of my 24-105mm f/4.0 lenses.
Macro Photos With the Canon EOS 70D
These aren't true macro photos by definition, but they are close enough to get a beautiful perspective on the world around us.
The EOS 70D produces great color saturation.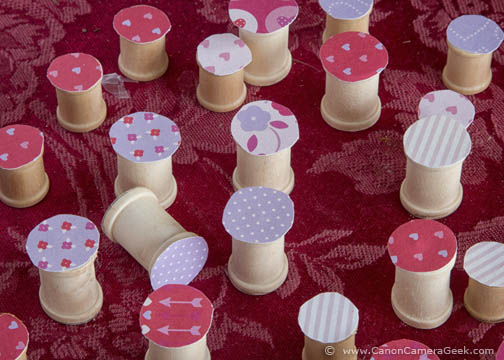 Hand-held photo of spools


High ISO 70D Photos
Let's face it.  We've been spoiled.  I know I am dating myself here, but back in the old days, if we rated our film at ISO 800 (back then it was ASA 800) and processed it appropriately, we got "golf ball" sized grain.
Now we can shoot at ISO 1000 with a small APS-C sensor and a slow shutter speed and get really good results.  I hope you are enjoying this.  It's a great time to have an interest in photography.
Your opportunities for existing light photography expand dramatically with new cameras and their sensors like the 70D's.  You'd never know how dark it was where I took the photo below of my old girl, Mocha, on the steps below.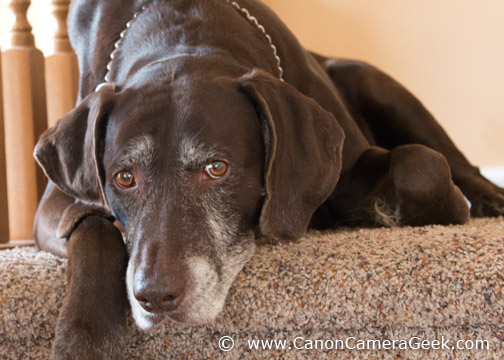 Dog at ISO 1000 f/4.5 for 1/10 second using Image Stabilization


View the magnified high ISO photos taken of pretzels to compare the different levels of noise and sharpness. These were cropped 4 x 2.5 at 72 dpi, then magnified to fit the width of this web site column.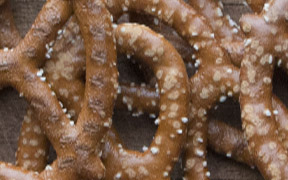 Canon EOS 70D-Pretzels at ISO 2000 - MAGNIFIED 2X


You can see that the iso 2000 photo above is not as sharp.  I was shooting hand-held and that may have called just the slightest bit of motion blur.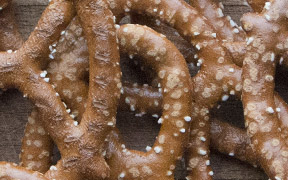 Canon EOS 70d -Pretzels at ISO 4000 - MAGNIFIED 2X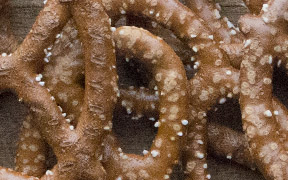 Canon EOS 70d -Pretzels at ISO 8000 - MAGNIFIED 2X


In the ISO 12,800 of the pretzels below, the image starts to fall apart.  There is a significant increase in noise when going from ISO 8000 to 12800, although sharpness and color noise did not suffer too much.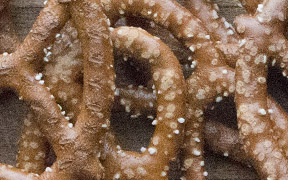 Canon EOS 70D at 12,800 ISO - MAGNIFIED 2X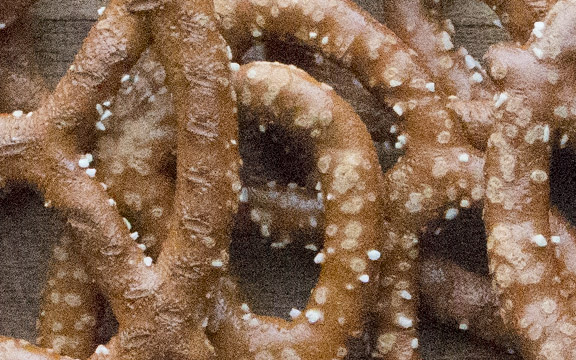 Canon EOS 70D - ISO 12800-not magnified


At ISO 12,800, noise is significant, but can be improved with noise reduction software.
Sports Photography and the EOS 70D
At 7 frames per second, the 70D gives you an affordable entry into pro-level sports photography.  With an APS-C sized sensor you get a crop factor of 1.6x, so even a 200mm lens will give you the telephoto results of a 320mm lens.
Many years ago I shot the USA tennis open and got some good shots with a 5 frames per second Canon.
I've been having a blast playing with my new EOS 70D and I wanted to give you the opportunity to view photos taken with the 70D to help you decide if it's the right camera for you.
If you do decide to invest in any photography equipment, using one of the links below helps me keep this web site going.
Have a blast, shoot your Canon!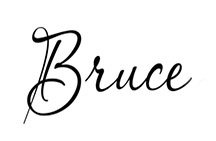 Bruce Lovelace is the publisher of Canon Camera Geek. Read more about him on the About Page. He also publishes how to articles and camera gear reviews at the Photography Tips website.
View some of Bruce's photos on Instagram  and Flickr.   Join the tribe of followers on YouTube. Visit the Canon Geek FaceBook Page. Bruce also runs photo workshops and provides 1 on 1 digital photography coaching.
---