Camera Bags for Men

Men's Designer Camera Bags
WRITTEN BY: BRUCE LOVELACE
PUBLISHED ON: NOVEMBER 7, 2023
You're looking for camera bags for men. This helpful guide to designer camera bags will give you what you need to look for along with a couple of convenient links to top bags.
The subject of men's camera bags came up by accident as a subject to cover on the Canon Geek site. I was looking for a new waist level equipment bag and Google's magical autofill revealed that you wanted more information on men's camera bags.
Although the images you create are the most important thing, the image you have as a photographer with taste matters to us all. It's only human nature.
Trends in men's camera bags.
The days of traditional looing camera bags isn't over, but there's a new kid in town. Smaller stylish bags are gaining ground on the oversized, bulky camera bags of yesterday.  Now, it's all about leather bags, vintage camera bags, as well as stylish designer bags that hold laptop computers in addition to the required camera gear.
As a pro photographer I've always owned traditional looking camera bags, made for function. I avoided displaying a good-looking designer camera bag with both form and function.
I'm wonder if I'd be better at promoting my brand with the stylish masculine look or I'd just enjoy the smell of a leather camera bag. 
Would a guy type in "camera bags for men" if he were looking for a more masculine gadget bag.  I think maybe there'd be more searches by women, looking for a gift camera bag for men, rather than men looking for themselves. Shockingly, I researched the term "camera bags for women" and found out that women's camera bag searches outnumber the men by about TWENTY TIMES.
Is it sexist to say that women are the main shoppers when it comes to camera bags designed specifically for men and women?  Anyway, on to what your searching for, the features of a good camera bag for the masculine segment of our population.
DSLR Camera Bags for Men
Rather than get the traditional camera bag that looks like a camera bag, and acts like a camera bag, why not get a working camera bag that's also has great look and feel for a man?
With that in mind, here are 3 great camera bags for the man who wants both great form and function. Click on any one of these photos to check the current price on Amazon.
As an Amazon affiliate Canon Camera Geek receives a small commission from qualifying purchases, at NO added cost to you.
---
Features of Camera Bags for Men
What makes a good camera bag just right for a man?  I don't want to offend anyone, so consider these thoughts with a little tongue-in-cheek attitude. What should a gadget bag have to fit the needs and desires of your average male photographer?  Here's the list of what to consider when choosing the best men's camera bag.
1. The Materials Camera Bags Are Made Of
You want your bag to be durable and be able to both carry and protect your expensive camera gear too. First, take a look at materials. You should take a look at what camera bags are made of before you invest.
Camera bags can be made from a variety of materials. Traditional high quality camera bags are made with advanced materials like ballistic nylon, while designer camera bags are constructed with full-grain or top-quality, weather-resistant leather. Still other bags are made using cotton or canvas fabrics.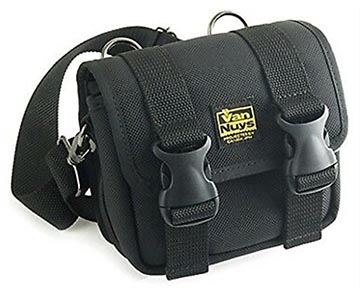 Ballistic Nylon Bag


Cotton Camera Bag


Canvas Camera Bag


Leather Camera Bag


2. Size of Camera Bag
Size matters.  If it's too small to hold your camera junk it ain't manly enough.  Seriously, if it's a wimpy size then it's no good for a man or a woman. As far as choosing the right size for your manly camera bag, it's better to error on the big side rather than the small side.
UTG Messenger bag


A camera bag that is too small is worthless. A camera bag that's a little big gives you room for fitting another piece of gear in your bag should you decide to expand your gear list in the future.
This UTG Multi-function bag isn't really designed to be for camera equipment, particularly if you are packing a big lens in your arsenal.  It's a huge seller on Amazon and would work for you if you are only taking along a DSLR with a single multi-purpose lens mounted on it, like the Canon EF-S 18-135 or Canon 24-105.
3. Color of Mens Camera Bag
Pastels and flowers are out of the question, men.  A few years back, there was a movement afloat that pink was cool for men. Not any more! 

Black, grey, khaki, and brown are more macho for the colors for the male camera accessory bag.
4. The number and size of the pockets and compartments.
This feature is what makes or breaks the funcion part of the evaluation equation. You've got to have a good idea of exactly what's going to be stored and carried along in the camera bag first.
5. Best Place to Buy a Man's Camera Bag
Sorry, but Walmart and Target are out as good places to find designer cmaera bags for men.
If you are looking for a real designer type of camera bag, you'll get a lot more choices by shopping online.  If you want a real good touch and feel it first type of experience before buying you may have to drive to the mall or a high end retailer for a face to face encounter.

No matter where you shop, you can get a good sampling for the diverse styles, colors, sizes and shapes of camera bags for men on both Amazon and specialist sellers like
As an Amazon affiliate Canon Camera Geek receives a small commission from qualifying purchases, at NO added cost to you.
Search for ideas about Camera Bags on Amazon
Keep shooting, keep learning, keep improving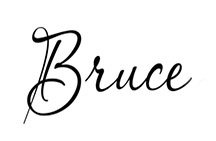 Bruce Lovelace is the publisher of Canon Camera Geek. Read more about him on the About Page. He also publishes how to articles and camera gear reviews at the Photography Tips website.
View some of Bruce's photos on Instagram  and Flickr.   Join the tribe of followers on YouTube. Bruce also runs photo workshops and provides 1 on 1 digital photography coaching.
---