Best Canon Top Loading Camera Bag
Lowepro 55W
Are you looking for a good Canon top loading camera bag? You want something that fits just right and won't cost you a ton.
This post will show you the specific features to look for when you're considering getting a top loading style of camera bag or an alternative. I included lots of close-up photos to help you know what to look for in a good top-loading camera bag.
---

I gave this Lowepro top-loading digital camera bag a 5 thumbs-up rating despite the fact that I had to return it. That sounds odd. Let me explain.
I was searching for the best top loading camera bag, also called "holster" camera bags, that would give me easy access to my Canon 5D and 70-200mm f2.8 while hiking the trail. I purchased the Lowepro Toploader 55 AW.
Top loading camera bags like the 55 AW are good for giving you quick access to your camera and lens and small accessories without setting your bag down.  


I already had a waist-mounted bag for quick access to one camera and my Canon 24-105 lens. I wanted to add a camera body with a longer telephoto for getting quick shots of wildlife.

I rated it based on buying it, examining it closely and evaluating it for its intended purpose. Here is my disclaimer though.  It will only be right for you if it's the right size.
I needed it to fit my Canon 70-200 lens attached to my Canon 5D Mark III. It failed on that one. It will easily handle a DSLR and a medium sized lens.
In fact, size is usually the biggest complaint when it comes to top-loading camera bags. I am an Amazon review-reading junkie and there are often complaints about top-loaders that say it is too small and others that say it is too big.
Top Loading Camera Bag Alternatives
The good news is that there are so many models available, that there's no doubt you find the perfect one for your needs. Watch this video of the 10 best top loading cameras bags. Although it's also a sales pitch for the website, you will get good info on the best features to look for.
Photos of the Canon Top Loading Camera Bag - The Lowepro 55W
If I had forced it, I could have zippered the lid down but it would have put excess stress on the bag.  That's the mistake that I made this mistake with my shoulder bag a few years ago. I over-stressed the zipper on the main compartment, broke it, and made my bag useless.
The loops on the zipper handles are one of those little detail features that impressed me about this bag.
The Lowepro Toploader has a zippering handy memory card holder under the lid. You could also store a spare battery in the zippered area.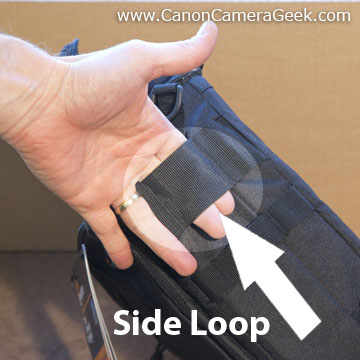 The Lowepro 55 AW also has a double side loop for attaching a mini-tripod or monopod.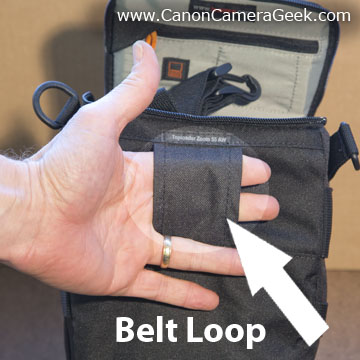 Using the belt loop will help in two ways. It will prevent your bag from swinging around and banging in to anything and will also take some of the weight off of your shoulder.
The "D" rings are a good design and are included on top and bottom of the Canon Top loading camera bag.
One other potential shortcoming for some photographers could be the width of the shoulder strap.  It is not particularly wide and is not padded. I have several other thickly padded straps that I can substitute for the included strap if needed.
This bag is designed to hold just one camera-lens combination so it will not weigh that much on your shoulder when loaded.
I didn't keep this as my own best Canon top loading camera bag because of its size, but it might be the right one for you. You can always get it and see if it is the right size.  It was so easy to return it to Amazon for a full refund.



You can get more opinions by reading the reviews on amazon about this top loading bag as well as others.

Click the Amazon link to find out more.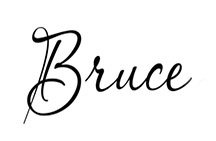 Bruce Lovelace is the publisher of Canon Camera Geek. Read more about him on the About Page. He also publishes how to articles and camera gear reviews at the Photography Tips website.
View some of Bruce's photos on Instagram  and Flickr.   Join the tribe of followers on YouTube. Bruce also runs photo workshops and provides 1 on 1 digital photography coaching.
Other good places to buy a top loading camera bag for your Canon
---