Canon Sling Camera Bag Review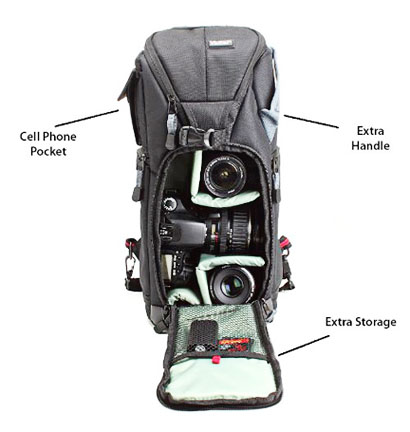 Ultimate Sling Bag


This Canon sling camera bag review is written about a gadget bag that is temporarily UN-available.
Okay, you likely want to know why I wrote this article if you can't buy this particular Canon accessory anyway. Perhaps I didn't drink  enough of my morning coffee yet. 
This post will give you the ins and outs of a specific sling type of camera bag. That will help you decide if this is the right sling camera bag for you and the equipment you will be using.
It's a valuable way for CanonGeek readers to evaluate what's good and not good in a camera bag format and this type of bag is worth considering.
Looking at several different photos of any accessory is a great way to begin to evaluate it. This bag is tall and thin, so it is easy to carry.
The basic design of having a camera pack on your back gives you the ability to carry a significant amount of camera gear.  I am not a particularly strong guy and I have had no problems carrying 45 lbs. of gear with me on backpacking excursions.
Unless you are carrying a seriously heavy tripod, several large lenses or sophisticated lighting equipment you won't have 45 lbs. of cameras and accessories on your photo shoot.
Camera Bag Photo Gallery
Right Side View
Top View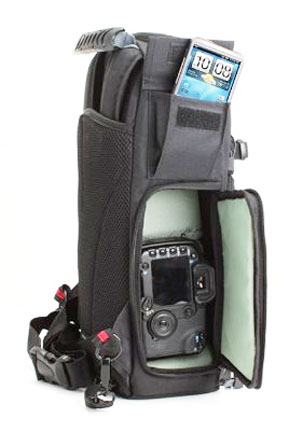 Left Side View
I love this design as a "day" backpack, very useful and practical for a hiking/photography excursion.  I don't really consider it a "Sling" gadget bag but this is the label it was given by the vendor advertising it on Amazon.
True sling bags have the ability to have a should strap around your neck or shoulder and sling the bag around for access to your equipment.
All of the separate compartments give it extreme versatility to use it for several, adaptable camera gear, hiking accessories, food, drink combination.  I am currently looking to buy one and stumbled across this one when I did a search for "Canon 70D Accessories" 
Best Camera Bag Features
ENTRANCES. This bag has 3 quick entry paths to the camera compartment and you can arrange the dividers to fit your equipment needs.
ACCESSORIES. It has 4 accessory pockets, each with its own size to accommodate different accessories. You can never have too many pockets in a camera bag,
STRAPS. You can tuck away the shoulder and waist straps and use it either as a secure backpack or a single strap sling over one shoulder, whichever is more convenient at the time.
HANDLE. It has a luggage handle slot for piggybacking on the trolley handle of a suitcase. That makes it easy to transport through an airport.
PROTECTION. If you get caught in a downpour, it has a built-in rain cover. It packs away in a small compartment, but is easily accessed for those quick changing weather conditions.
Gadget Bag Shortcomings

The biggest complaint with most camera bags refers to their size.  For some this kind of bag is way too big.  For a few other serious photographers or serious backpackers, this sling bag is too narrow.  
This is not a huge bag for large camera and large telephoto lens combinations.  It is a lightweight bag that has inside dimensions of about 7.5 inches wide, 10 inches tall and 3.5 inches deep.
With that said, it is a very useful gear bag for the right uses and the right amount of equipment. I do like it's versatility, including the 4 accessory pockets, small tripod holder, multiple strap uses, and rain cover.
This bag was original made by Vivitar and not an official Canon Camera Bag
I hopeful that this Canon sling camera bag review give you some perspective on whether this is an appropriate type of gadget bag for you.  The Canon geek website's mission is to help you decide what the best cameras and accessories are the right fit for you.
As an Amazon affiliate Canon Camera Geek receives a small commission from qualifying purchases, at NO added cost to you.
I hope you found this post helpful. Explore related topics using the links below my signature of use the search box below. Have a blast. Shoot a Canon.

Search for articles on this Site:


Bruce Lovelace is the publisher of Canon Camera Geek. Read more about him on the About Page. He also publishes how to articles and camera gear reviews at the Photography Tips website.
View some of Bruce's photos on Instagram  and Flickr.   Join the Tribe: YouTube. Visit the Canon Geek FaceBook Group. Bruce runs photo workshops and provides 1 on 1 digital photography coaching.
Back from Canon Sling Camera Bag Review to Canon Geek Home Page
Back to Canon Digital Camera Bags