Pictures of Alaska Taken With My Canon 5D Mark III
Here are some of the pictures of Alaska taken with my Canon 5D Mark III camera during my 2-week jaunt in one of the United State's most majestic states.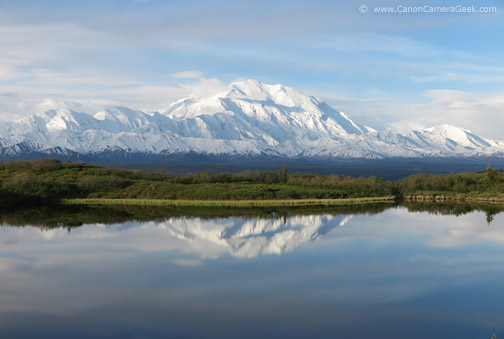 This is Reflection Pond with part of the Alaskan Mountain Range providing the wonderful view. It's one of the most popular locations photographed in Denali because of the pond's close proximity to the one road that travels deep into the park.
When the wind is calm you get a great reflection of "The Mountain" and its snowy peaks.
Some of my best wildlife photos from Alaska were taken with my Canon 400mm f5.6 lens attached, including the early morning photo of this moose chowing down on some breakfast in a kettle pond in Denali National Park.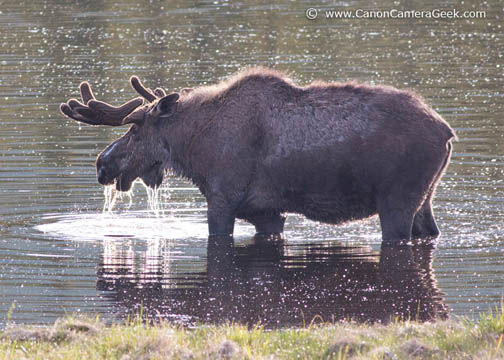 You need a lot of "glass," (a powerful telephoto) to get up close and personal with animals in their natural habitat.  I liked the strong back-lighting that accentuated the dripping water each time the moose lifted its head up out of the water.
On our final full day in Alaska, not too far from Sitka, this eagle flew directly over our skiff. Fortunately I had camera in hand and a high enough ISO pre-set to capture this swift-moving, majestic symbol of our nation soaring through the air.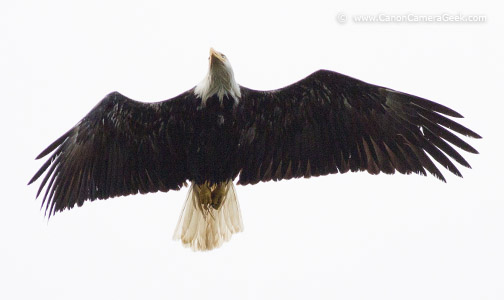 Exposure on my Canon 5D Mark III with the Canon 400mm f/5.6 was 1/8000 second at f/5.6.
Combining the images I took with both my new Canon G1x Mark II and my old 5D Mark II, I took over 1,000 photos during my land and sea tour of Alaska.  
I processed about 100 of them within the first two weeks of being home and likely will pull another 50 or so out of the collection.
Sunset pictures of Alaska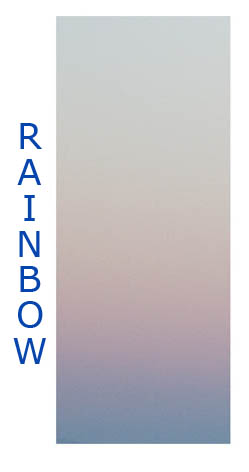 I happened to glance out my cabin window one night. I saw one of my favorite lighting situations. I call it "rainbow sky sunset."  
No, there is no traditional rainbow but rather a subtle representation of the color spectrum that appears just after sunset.
This photo on the right is a section from the photo below.
I confess I am a lighting geek, too. I get a kick out of this naturally occurring light spectrum. This rainbow effect late in the day doesn't last very long, but it's worth waiting for.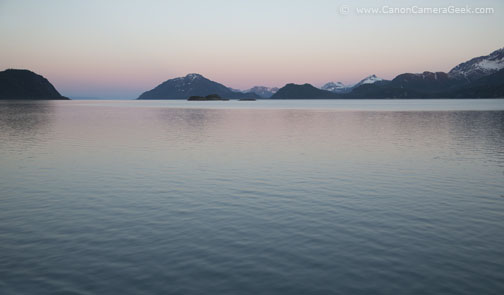 Usually I see this when I am on a beach looking eastward out over the Atlantic ocean on the east coast of the USA..  This was a unique situation because I had a 360 degree view from the vantage of our small cruise boat.
There were different scenes surrounding me on all sides.
These Alaskan sunsets are not those brilliant red-orange sunsets we experience at home sometimes, but the mix of clouds, mountains, and water make them unique and enjoyable to study. The immense expanse of both depth and height of this area is overwhelming to me.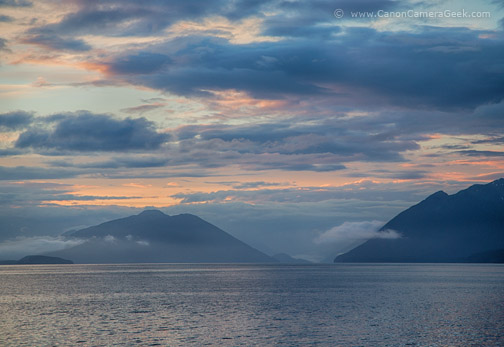 Exposure of the photo of the Alaskan sunset taken with
the Canon 5D MarK II was ISO 500 at f/5.6 for 1/320 second
Whales are another one of the iconic images frequently associated with Alaska photography. The captain and his crew were quite aware of the best places for whale watching and we were not disappointed at all.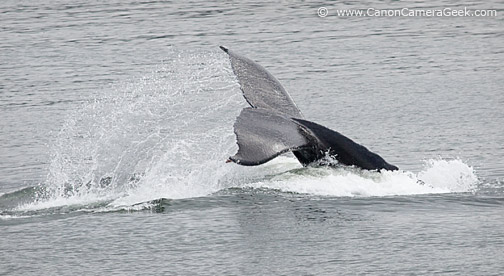 This one of my favorites of the whale flukes because of the angled water trail this humpback left behind.  The lighting was flat during this sequence, but the sounds of these enormous mammals exhaling was inspiring and funny at the same time. 
I'll close this discussion for now, but will return very soon to post some more photos I took of Alaska with a Canon 5D Mark II and a G1X Mark II. If you like some of my pictures of Alaska taken with my Canon 5D Mark III, please share this page with a friend.
Keep shooting your Canon.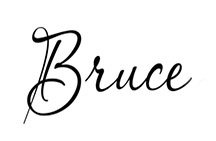 Bruce Lovelace is the publisher of Canon Camera Geek. Read more about him on the About Page. He also publishes how to articles and camera gear reviews at the Photography Tips website.
View some of Bruce's photos on Instagram  and Flickr.   Join the tribe of followers on YouTube. Bruce also runs photo workshops and provides 1 on 1 digital photography coaching.
---
---