Best Lens for Canon EOS 70D
Canon EOS 70D With 18-135mm Lens
What is the best lens for Canon EOS 70D cameras?  
Lenses for the 70d range from small, simple and cheap to large, complex and pricey.  
The EF-S line of Canon lenses is the clear choice.  
They are specifically designed for Cameras with an APS-C sized sensor.
With that said, I have a confession.
I don't own any EF-S lenses anymore, but that doesn't mean YOU can't.  
As I mentioned in some of the other articles on the EOS 70D (with the exception of my old G11 and now a Canon G1X Mark II), I only shot full frame Canon DSLRs for quite some time.
The ground-breaking dual-pixel focusing, combined with the 20 megapixel sensor and the digic 5+ processor brought me back to an APS-C camera.
  Best Overall Lens for Canon EOS 70D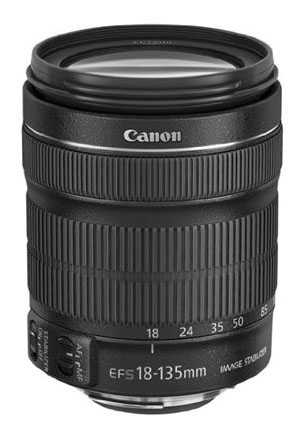 Canon EF-S 18-135
With that said I like one of the 18-135 because of zoom range, size, and price.  
It is also highly rated by consumers.  
Perhaps it's only limitation is it won't be great at distant wildlife or sports photography.
At 135mm you're going to get the equivalent of a 216mm telephoto lens.  That's not too bad if you can close to the sideline at a kids soccer game on a small field, but will fall a bit short at larger scale sporting events.
Not my favorite Lens
The EF-S 18-55 kit lens is likely one of the all-time favorite lenses in the entire EOS line because of its price.  
It is not my favorite as a one best lens choice because of its limitied zoom range.  
You only get about a 3x zoom ratio from it's "wide" setting to its "telephoto" setting
If you held a gun to my head and made me limit my best lens choice to just one, with no option to ever buy another for the rest of my life, And I wasn't a pro shooter I'd pick one of the 18-200mm lenses.
With the 1.6 crop factor that's the equivalent of a 29-320mm zoom range.  You would get a boatload of versatility without ever having to change lenses.
There are some compromises in performance and design when you jam that much of a zoom ratio into one camera, but it's shortcomings are not outrageously objectionable for the averag photographer.
Best Two-lens Combo for the 70D
Have you considered having two lenses to broaden your coverage? If you can splurge on two, then you have a real nice situation.  You can start with the very affordable 18-55 and add a 55-250mm lens.
Both of these lenses are VERY AFFORDABLE, easy to use and fairly small.  You then get a total zoom range  equivalency of 29-400. That super extended range will handle just about any possilbe photographic situation you can imagine.
Alternative Lenses for the Canon EOS 70D
Are you 100% committed to getting a Canon lens?  If not, you have some good substitutes available to you.  Then the best lens for Canon EOS 70D might be the Tamron equivalent 18-200 which sells for less than half the price as the Canon Brand 18-200 lens.
Here is a link to some reviews on the Tamron 18-200.  Wherever you buy them, Amazon is at least a good place to read reviews on the best lens for your EOS 70D:
Tamron AF 18-200mm f/3.5-6.3 Lens Reviews by Amazon shoppers
Watch Less TV.
Shoot more photos
Bruce
Lens for Canon APS-C Cameras for Shooting Waterfalls