Canon G1x Mark II Case
You need to get a decent Canon G1X Mark II case. The good news is you have plenty of really good choices. This post will help you choose what's best.
Several good alternatives will come forth in your search for the right one for your situation. Most of the cases in this post are the ones you use when you don't want to carry much else in terms of Canon camera accessories.
All of these options for your G1X Mark II will keep your camera protected to various degrees.
1.  Canon's Leather Case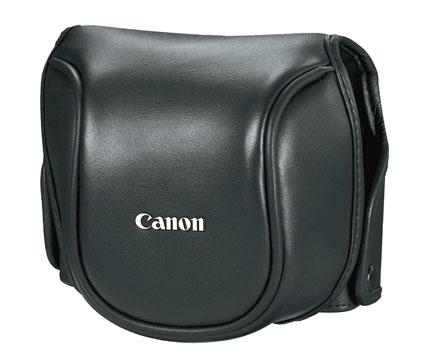 Canon's own case for the Mark II is the most expensive and I don't recommend it unless you are really committed to displaying the Canon name on the front of your case.  It has a convenient push button closure for quick camera access.
2. The Padded Pouch
The camera case I use for my G1X Mark II


This is the case I purchased for my G1X Mark II. The padded pouch cases offer easy access and can be attached to a belt or used with a shoulder strap or a handle on top.  Heavily padded, this case offers the best protection and has room for other small accessories
It has a bottom-zippered expansion area. This gives you extra room where you can store the small G1X Mark II Battery Charger.
I use the extra storage capacity it to carry a 270EX-II Speedlite and the EVF viewfinder, my favorite accessory of all. The YKK zippers are well-made and designed to not snag or break.
More Reviews on Canon Powershot G1X Mark II Cases
3. The "Ever-ready" Case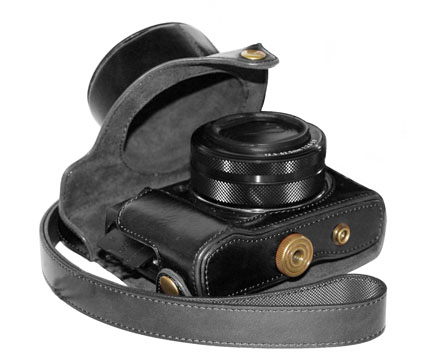 Leather G1X Mark II case


The Ever-ready cases attach to your camera's tripod mount.

The case stays on while you shoot. By un-snapping the top section, you reveal the lens and camera controls. Your camera stays protected.
This case was made specifically to fit the Powershot G1X Mark II so you know you'll have no issues with it being compatible. 
This type of case brings back childhood memories for me personally.
It was the same type that I had for my very first SLR camera, a Topcon (Beseler) with interchangeable lenses.

This is one of the most popular with readers of the CanonCameraGeek blog.
4.  The Neoprene Case
Neoprene G1X Mark II case


The neoprene cases are thin and light.  I like the fact that they come with a spring-type of carabiner clip-the same kind I use for attaching all kinds of backpacking accessories to my backpack.
The clip gives it versatility to attach to whatever else you are wearing at the time of your photo shoot.
These probably offer the least amount of actual protection of the four cases covered here. The neoprene bags are quite thin and are more appropriate for using within another sturdier, larger camera and accessory bag or backpack.
Best Canon G1x Mark II Case
More Reviews on Canon Powershot G1X Mark II Cases on Amazon
The best Canon G11X Mark II case is the one that works for your specific situation. When I am shooting with my G1X Mark II I really like the cases that can be securely attached around my waist.
I personally don't like straps of any kind around my neck.  I like the hands and arms free situation I get when I use a case or small bag that attaches to my belt.
The one caution I'll offer is to make sure it is the right size.  Some of these cases are advertised to fit all of the "G" series Canon cameras. The G1X Mark II has a bigger protruding lens; it's larger than the retractable lenses like rest of the "G" series cameras.
 Have a blast shooting your Canon!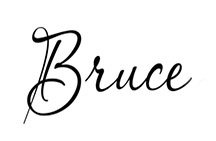 Bruce Lovelace is the publisher of Canon Camera Geek. Read more about him on the About Page. He also publishes how to articles and camera gear reviews at the Photography Tips website.
View some of Bruce's photos on Instagram  and Flickr.   Join the tribe of followers on YouTube. Bruce also runs photo workshops and provides 1 on 1 digital photography coaching.
---
---
As an Amazon affiliate Canon Camera Geek receives a small commission from qualifying purchases, at NO added cost to you.
---
---
---