Canon G1x Mark II vs Canon G11 Comparison
The Canon G1x Mark II vs Canon G11 comparison is an unusual one to make because these two Canon cameras were released about 4 1/2 years apart. The entire original line of "G" cameras, the G10 through the G15 are very similar in size and design but the G1X and the G1x Mark II were designed around a much bigger sensor.
It will be useful comparison though, for Canon shooters who are deciding if the new G1x Mark II is a camera worth spending the big bucks for.

Canon G11 Vs. G1x Mark II


A side by side comparison of these two point and shoot cameras reveals that they are quite similar in size.  The major difference between the two cameras from the front is that  the space occupied by the optical viewfinder on the G11 is now taken up by the bigger lens on the G1x Mark II.
A big red flag goes up in the air for me personally when I see a camera without an optical viewfinder.  Perhaps it is because I've been using viewfinders for over 45 years.
There might be some truth in there somewhere, but I think it's most because I strongly dislike composing a picture by looking at an LCD screen.  Holding a camera out in front to take a photo is awkward, plain and simple.
The optional (EVF) electronic viewfinder and the sensor size made
all of the difference in the world for me to buy the Powershot G1X Mark II.
The optical viewfinder works okay with the G11. The EVF viewfinder on the G1x Mark II is 100% accurate and bright.
It's full of all of the exposure and camera setting information I like to be able to see while I am shooting.
It slides onto the G1x Mark II hot shoe and is activated automatically as soon as your eye gets close to it.
Canon G1X Mark II vs Canon G11 - Size Comparison
The Canon G1x Mark II vs Canon G11 top view, comparing these two cameras, reveals the big difference in size. My Canon G11 was my take-it-anywhere everyday camera for a few years because of its ability to slide right into one of my pants pockets.
The lens on the G1x Mark II is a great lens in terms of its zoom range, speed, and close-focusing, but it is quite a bit bigger than the retracting lens on the G11.
While the G1X Mark II does squeeze tightly into my "cargo" pockets in my shorts, it is too big to fit into regular pants pocket.  I now where a small waist bag on my belt and access is quick and easy to pull out my new Powershot G1X Mark II for a photo.

Comparison of LCD size G1X Mark II vs. G11



---
---
As an Amazon affiliate Canon Camera Geek receives a small commission from qualifying purchases, at NO added cost to you.
---
---
G1x Mark II vs G11 - Image Quality Comparison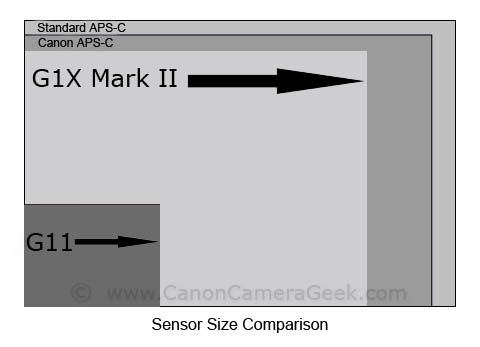 Sensor Size Comparison


Can you say "total domination" ?  
The G1X Mark sensor is more than 7x as big as the G11 sensor. The image quality is dramatically better with the G1X Mark II relatively huge sensor.
Now that the G11 is several years old, buying a new one makes no sense.  if you go for a used one on a site like ebay, you can get them real cheap.
The current cost (July of 2014) is steep for the G1x Mark II, but it's a great camera if you feel you can splurge on a great compact, travel camera. Keep shooting, keep learning, keep improving.
Reviews and Opinions of consumers who have purchased and used the Canon Powershot G1X Mark II Camera
Stay inspired with your photography. Shoot a Canon!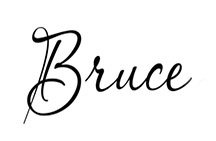 Bruce Lovelace is the publisher of Canon Camera Geek. Read more about him on the About Page. He also publishes how to articles and camera gear reviews at the Photography Tips website.
View some of Bruce's photos on Instagram  and Flickr.   Join the tribe of followers on YouTube. Bruce also runs photo workshops and provides 1 on 1 digital photography coaching.
---