Canon G1X Mark II Sensor
The Canon G1X Mark II sensor is almost as large as the Canon APS-C sensor, like the ones found in the Canon Rebel "ti" series, the Canon t3i, t4i, and t5i, as well as the EOS 10D to 70D series of Canon cameras.
The size of the sensor is the biggest reason of all that I bought the G1X Mark II.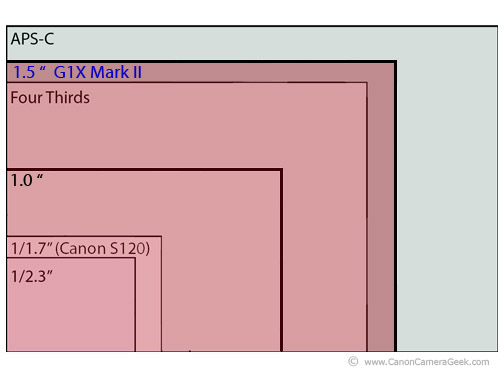 Sensor Size Comparison


It was a smart move for Canon to design a compact camera with such a nice big sensor packed inside.  That's a big improvement over the 1/1.7 inch sensor you find in the s120 and the more recent "g" series like my Canon G11.
One of the cool features of the Canon Powershot G1X Mark II sensor is the ability to shoot with different aspect ratios. The diagram below shows the two most well-known aspect ratios of 3:2  and 4:3.
Mulit-aspect Ratio Canon G1X Mark II Sensor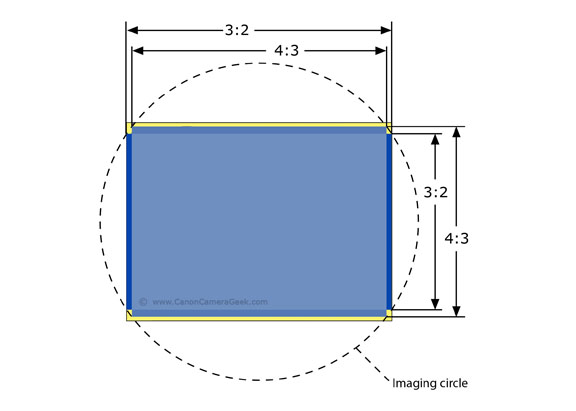 The Mark II can easily be switched between a 3:2 and 4:3 aspect ratio with the "function set" button on the back of the camera.
The G1X Mark II also allows you to use 16:9, a square 1:1 ratio, and the standard "portrait" aspect ratio of 4:5 when you shoot photographs.  The photos below show the compositions you get when using these "crops" of the sensor.
Camera technology has advanced so much in the last decade.  So many creative aspects of photography have emerged that it's easy to forget to just have fun with your digital photography.
The G1X Mark II has 12.8 megapixels used on the sensor when the default 3:2 aspect ratio is selected and is only slightly different when you select the 4:3 ratio.
In either case a sensor this size gives much better high ISO performance and better intentional out-of-focus backgrounds which are great for shooting portraits.
When I first tested the Mark II at high ISO setting I was pleasantly surprised at the noise levels.  I confess that was my biggest disappointment with my Canon G11.  Anything at ISO 400 or higher was really only suitable for sharing on social media.
I compared the noise this sensor produces between the RAW files and the ones produced from the Digic 6 processor and some of the high ISO performance credit must be given to the G1X Mark II processor.
I know from my research that larger sensor-equipped cameras are generally much better performing at higher ISOs than many of the typical point and shoot sensor cameras.
Enjoy the new technology of digital photography and the Canon G1X Mark II sensor.
Leave G1x Mark II Sensor - Go To Canon Camera Reviews Home Page
More about Digital Camera Sensor Size
Happy Shooting
Bruce
If you enjoyed this article on the Powershot G1X Mark II sensor please share it with a friend