Canon Speedlite 580EX II Portrait Lighting
One Speedlite 580EX


This is an easy-to-carry Canon Speedlite 580EX II Portrait Lighting setup that can be transported to any location. One Canon Speedlite bounced into a small umbrella at close range can give you a nice soft studio quality lighting.
Triggered with a remote transmitter mounted on the shoe mount of the camera.
In this first speedlite portrait, I used a large white piece of Foam-Core cardboard to fill in the shadow area. This lightened the shadow areas on the left side of Molly the Mannequin.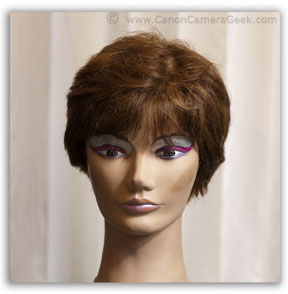 One Speedlite 580EX


In the second photo, I removed the fill light for a more dramatic effect.
I used a simple Rembrandt lighting that the famous painter employed in his paintings.
Rembrandt Lighting is characterized by a triangular patch of light on the opposite side of the face from the light source. Look for the triangular patch of light. Great for corporate headshots and very small group portraits.
Umbrella is p[laced about 45 degrees above and to the side of your subject. The umbrella was only about 3 feet from my model's head.
It was only about a 4 foot by 8 foot area of floor space need to create this Canon Speedlite Portrait. The background was white vertical window blinds about  3 feet behind my subject.
Equipment list for the Canon Speedlite 580EX-II Portrait lighting
Here is the list of the equipment I used:
---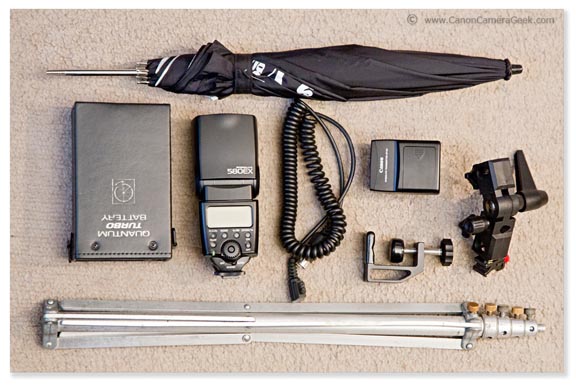 Equipment used With the 580EX-II Portrait


You can see by the picture of all of the equipment used (minus my Canon 5D) that you could fit it all in a duffle bag or camera bag and strap the stand and umbrella on the side.
You can also see in the photo how old my aluminum light stand is.  I 've been using that baby for about thirty years. 
The Speedlite Transmitter ST-E2 has four different channels and an easy to understand sliding light ratio scale when using more than one Speedlite as a slave.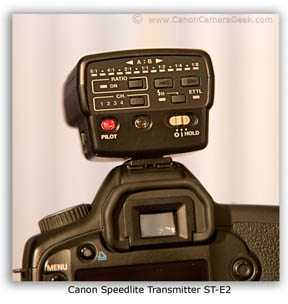 I used a small carbon fiber tripod but you really don't need one in this situation.  Hand-held shooting would be faster if you were working with a live model and going to vary your shooting angle and height.
If you are really sharp, you may have noticed the the equipment photo shows a Canon 580EX and not a 580EX II.  I used a 580EX because that's what I had on hand.
Most Canon photographers prefer the Canon Speedlite 580EX II over it's predecessor, the 580EX. If you're only using one like me, it really doesn't matter which 580EX Speedlite you use for your Canon Speedlite portrait lighting, provided you have a reliable way to trigger it from your camera with this lighting set-up.
Keep shooting your Canon!
As an Amazon affiliate Canon Camera Geek receives a small commission from qualifying purchases, at NO added cost to you.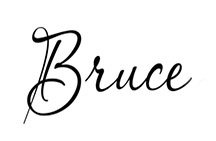 Bruce Lovelace is the publisher of Canon Camera Geek. Read more about him on the About Page. He also publishes how to articles and camera gear reviews at the Photography Tips website.
View some of Bruce's photos on Instagram  and Flickr.   Join the tribe of followers on YouTube. Visit the Canon Geek FaceBook Page. Bruce also runs photo workshops and provides 1 on 1 digital photography coaching.
---
---