Canon DSLR Protection
The topic of Canon DSLR protection isn't so sexy to write about, or even think about.
But, you must be reminded of several issues when it come to protecting your Canon camera equipment.
The digital camera itself is a complex combination of glass, metal, plastic and sophisticated electronics that are exposed to a large variety of "dangers" for damage.
That opens up the need to safeguard your valuable camera equipment in several ways. This post will help you decide what you need to get to protect you Canon DSLR and accessories.
You'd be ticked off if your Canon DSLR got damaged
Your camera body, its lens, and the LCD screen, are vulnerable parts of your photography gear that need protection from the weather and impact damage as well as theft prevention.
5 Types of Canon DSLR Protection
Here are the 5 best ways to prevent your nightmare of camera and lens breakage or loss.
1. Canon DSLR Body Protection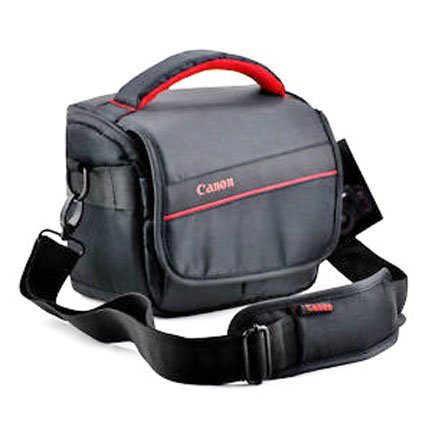 Your Canon camera body can either be protected with an individual case or within a larger camera bag that includes carrying and protection functions for camera accessories as well.  
There are literally thousands of choices for you and I've shared my thoughts on several specific choices in other articles on the Canon Camera Geek web site. Canon Digital Camera Bags
One important thing to do is to get real specific on exactly what you will want to carry and protect. Make a list of your current cameras and accessories and include any gear you might add in the near future.
SIZE MATTERS. I spend a lot of time reading camera and accessory reviews and the biggest complaint with camera bags has to do with the size.  Often it's the fault of the buyer for not carefully analyzing his or her needs and matching that to the bag with the right amount of capacity.
2. Canon Lens Protection
Second only to impact damage to the lens barrel, the front surface is the most vulnerable part of the lens most likely to get damaged. A filter is the best way to protect your camera's lens.
Lens caps are an alternative, but it's a bit inconvenient and annoying to constantly remove and replace them between each and every photo you take.
For me, whenever I buy a lens it's an automatic purchase of a filter to go along with. Filters prevent scratches, but also just as important is that they are the best barrier to protect against dust, dirt and smudges.
It's easier to replace or clean a filter than it is to replace a lens or clean the front surface. The standard UV filters are very affordable and are your best choice.
3. Canon DSLR LCD Protection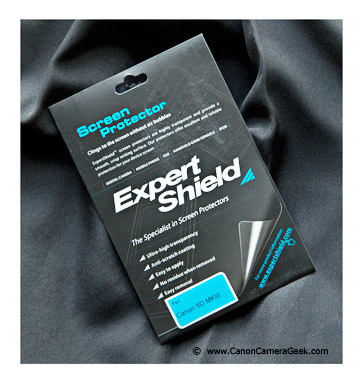 A badly scratched LCD screen interferes with your ability to properly use your camera.
There are literally hundreds of affordable screen protector options available to you.  
I use the Expert Shield Screen Protector and have been quite pleased with their performance.  Getting the application of the screen to your LCD is important and the instructions that came with the Expert Shiled were very specific for such a simple procedure.
Here is a link to some popular LCD screen protection products for Canon cameras:
Best LCD Screen Protectors
4. Canon DSLR Protection From Rain
You can get some great photos when it's raining or snowing.
Whether it's your kid's soccer game or an adventure to do some landscape or nature photography, you don;t want to miss a photo opportunity because of Mother Nature.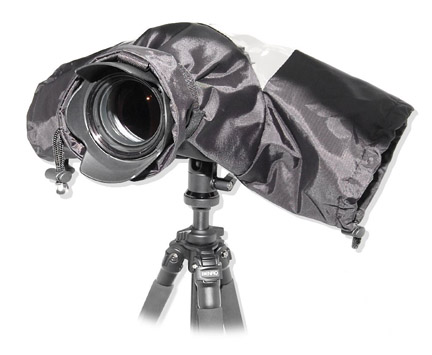 Most of my own outdoor photography involves a tripod, which means I can hold an umbrella in one hand while shooting. It's a bit awkward though to adjust or move your tripod if one of your hands is stuck holding onto an umbrella.

This method only leaves you one hand for using for all other aspects of doing your photography.  You can use a lightweight carbon fiber tripod and move it short distances with your remaining hand but it's really not and ideal solution to shooting in precipitation.
I also a set-up similar to the one pictured here when the weather has been pretty rough. These are much nicer and can be custom fit to your specific needs and preferences.
Consider whether you'd like the form fitting covers that have you make camera adjustments from outside the cover or the loose-fitting covers that allow you to make camera adjustments with your hands inside them.  Here are a few interesting choices to consider:
Canon Camera Rain Protection
5. Protection From Theft When Traveling
The best way to protect you camera from theft is to keep it hidden as much as possible.
Obviously if you are doing street photography or wildlife photography your camera must be quickly accessed and ready to go.
I just ordered an airport camera bag, specifically designed to look like any other travel suitcase, but designed with adjustable compartments and padding to protect my collection of Canon bodies, lenses and accessories. 
It is just the right size to fit under the airplane seats and meets the TSA requirements for both international and USA flights.  This way I don't have to worry about careless baggage handlers or my equipment getting lost.
If you enjoyed this article on Canon DSLR protection pleases share it with a friend.
Keep on shooting Your Canon!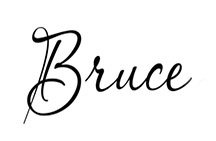 Bruce Lovelace is the publisher of Canon Camera Geek. Read more about him on the About Page. He also publishes how to articles and camera gear reviews at the Photography Tips website.
View some of Bruce's photos on Instagram  and Flickr.   Join the tribe of followers on YouTube. Bruce also runs photo workshops and provides 1 on 1 digital photography coaching.
---
DSLR Camera Protection for Backpackers
Leave Canon DSLR Protection - Go To Canon Camera Geek Home Page
buy Canon DSLR Protection:
As an Amazon affiliate Canon Camera Geek receives a small commission from qualifying purchases, at NO added cost to you.
---