Canon BG-E2 Battery Grip
(Canon 40D and 50D Battery GRip)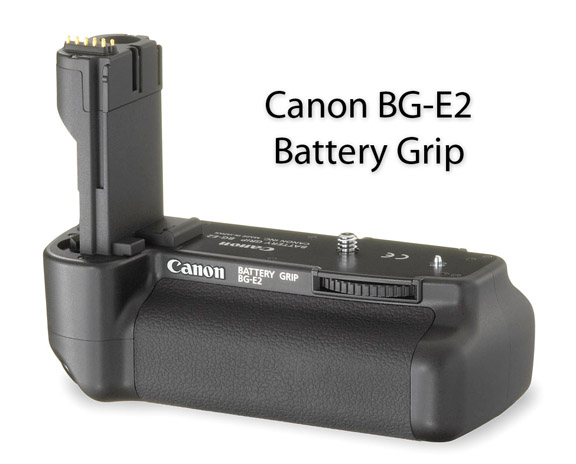 The Canon BG-E2 Battery Grip is a cool accessory for discriminating photographers that seek extra shooting power, improved control when shooting vertically, and more balance when shooting with heavier lenses.
The BG-E2N was introduced into the market along with the EOS 40D. The E2N has the added advantage of a weatherproof seal to the battery compartment. If your battery grip has Direct fit that means that the battery packs are inserted into the battery grip without having to use a magazine tray.

PHYSICAL SPECIFICATIONS OF THE BG-E2N
The battery grip weighs about 5/8 pound (290g) without any batteries and adds about 2 inches to the height of your Canon camera.

Battery power is doubled when two fully charge batteries are used (duh).

The BGM-E2  Battery Grip Magazine can be used instead with 6 AA batteries.
Bg-e2 and bg-e2n camera compatibility
Both the BG-E2 and the BG-E2N, work with the following Canon digital cameras:
THE CANON 20D -   8.2 MP, 1.8 inch screen, Digic 2 Processor, IS0-3200, 1/2 stop increments
THE CANON 30D -   8.2 MP, 2.5 inch screen, Digic 2 Processor, ISO-3200, 1/3 stop increments
THE CANON 40D - 10.1 MP, 3.0 inch screen, Digic 3 processor, ISO-3200, 1/3 stop increments  
THE CANON 50D -15.0 MP, 3.0 inch screen, Digic 4 processor, ISO-12,800, 1/3 stop increments
Here's a table on battery grip compatibility that includes the BG-E2 and BG-E2N battery grips
The Canon BG-E2N is the new and improved version of the BG-E2 with a new material around the battery compartment door that seals out water and dust.
This battery grip uses the BGM-E2 Magazine and BP-511, 511A, 512, and 514 batteries. Canon also made the WFT-E3/E3A wireless battery grip for transmitting your images to a nearby computer wirelessly or through a USB port..
 It did not have the battery stalk for insertion into the bottom of the camera (see the photo below) and did not provide extra battery life.
This accessory also gives your remote control shooting capabilities, change camera setting and allows remote live view.  How cool is that?
Critics say the downside of using a professional accessory like the Canon BG-E2 battery grip is the extra size and weight.  For some these characteristics are a bonus.  
If you are a minimalist backpacker at times then this would be a valid reason not to use one.  
If your camera bag is absolutely stuffed, then you might have to settle for a second battery instead. As is true with a lot of situations like this, it's a matter of personal choice and money for most photographers.
HOW TO INSTALL THE CANON BG-E2 and E2N BATTERY GRIP
You remove the existing battery compartment door by first fully opening it and gently sliding it horizontally away from your DLSR.
You new grip slides into the battery compartment for a snug fit.
You complete the installation by screwing the thumb screw into the bottom tripod socket on your camera. The BG-E2 and BG-E2N both have the tripod adapter threads on the bottom of the grip to mount the combined camera/grip to your tripod or monopod.
FINAL COMMENT ON THIS CANON GRIP
If you own a Canon 20D, 30D, 40D, or 50D, the Canon BG-E2N Battery Grip is one of those Canon camera accessories that is worthy of consideration. This is especially true if you like to shoot a lot of vertical compositions or if you do long photography sessions. Happy Shooting!

Other Canon gear:            Best Canon Speedlites            Canon Rebel Accessories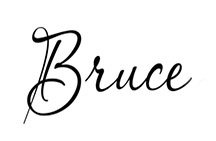 Bruce Lovelace is the publisher of Canon Camera Geek. Read more about him on the About Page. He also publishes how to articles and camera gear reviews at the Photography Tips website.
View some of Bruce's photos on Instagram  and Flickr.   Join the tribe of followers on YouTube. Bruce also runs photo workshops and provides 1 on 1 digital photography coaching.
---
---