What is a Battery Grip
What is a Battery Grip?  It is an accessory for digital cameras that holds one or two of the camera's regular batteries and attaches underneath a DSLR.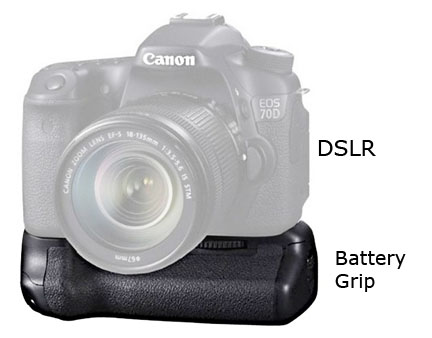 Each battery grip is made for a specific camera model and they are not interchangeable. The battery grip in the photo above is the BG-E14 which works with the Canon EOS 70D
What is a battery grip used for?
There are two chief reasons for getting and using one of these accessories.
1.  Double the number of photos you can take without having to change or re-charge a battery. If you put two fully charged camera batteries into your grip you will have twice as much power to shoot a ton pf photos or video.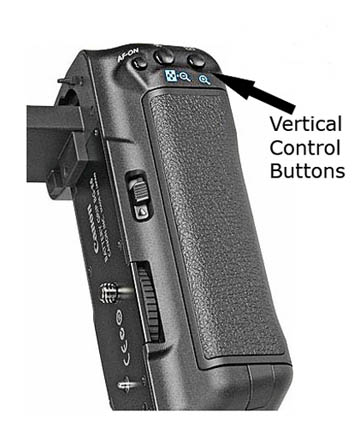 2.  Battery grips come with their own camera control buttons and dials.  
They are positioned on the end of your in such a way that makes it very convenient to use when your camera is turned sideways for photos that are vertically oriented.
3.  There is a third benefit that many photographers talk about when discussing why they really like using their grip.  
The extra weight of having the grip on your camera counteracts the added weight of having a heavier telephoto lens attached.  Many like the balanced feel that results from this combination of grip and lens.
Issues of having a battery grip
There are two drawbacks to getting and using  a grip like one of these for your camera.
1.  For some photographers the added weight and bulk makes them tiring to hold and use for any extended period of time.  With batteries installed in a battery grip, the added weight  can add up to a pound or so.
2.  Price.  Of course, every accessory you buy costs money.  The  brand-name batteries made by Canon are quite a bit more pricey than the generic, 3rd party grip manufactures.
Just for fun, check out the differences between the Brand names and the 3rd party makers on Amazon:
Canon vs NON-Canon Battery Grips
This web site is primarily about Canon cameras and accessories, so I've included the links to specific Canon battery grips below.  If you are not sure what battery grip fits your camera, you can use the search box at the top of this page, on the right.
Canon Battery Grips
| | |
| --- | --- |
| | If you found this article or this web site helpful please share it with a friend.  It helps me keep it going. |
Back to Canon Camera Reviews Main Page
Go to Canon Battery Grips Main Page
Have a blast shooting!
Bruce
Written by Bruce Lovelace
Bruce Lovelace on Google+