Canon BG-E14 Battery Grip
Best Grip for Canon EOS 70D
The Canon BG-E14 Battery Grip was specifically made to go with the Canon EOS 70D. Canon wisely designed the newer 80D and 90D cameras to work perfectly with the BG-E14 grip too. The E14 comes from a long line of Canon Battery Grips that have improved over the years, like most other Canon accessories that are based on technology.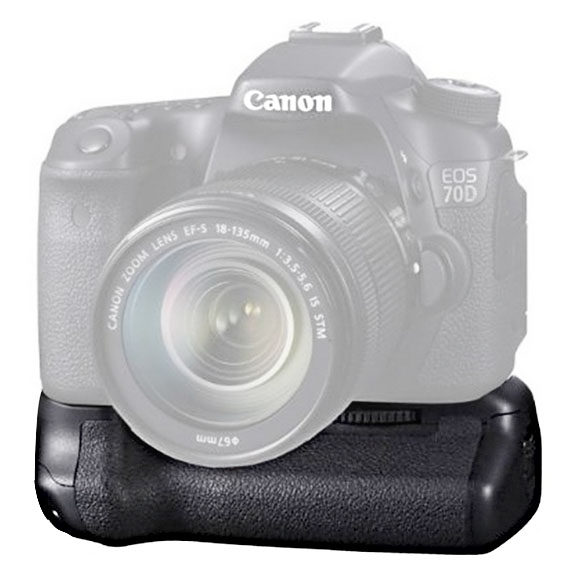 Grip mounted onto a Canon 70D


For the majority of photographers, "third party" grips are a better choice.  Most of the third party manufactures do a good job of making sure that these grips are fully compatible and they are a fraction of the cost of a genuine Canon grip.

For loyal Canon shooters and professional photographers who want the absolute best function and feel to their equipment, the genuine Canon BG-E14 is the superior choice.
If you are new to the idea of what battery grips are for, there are 3 main advantages of using  one of these accessories.
---
Benefits of using a Battery Grip for Your EOS 70D
1. Battery Grips Give You Longer Shooting Capacity
Battery Grip for Canon 70D, 80D, and 90D


You essentially double your battery capacity with the insertion of two freshly charged batteries in a grip and add the ability to use 6 AA batteries as an alternative.  If you are shooting video or using your LCD screen extensively, the extra power capacity will be appreciated.
Using the GPS and WiFi capabilities also  wear down batteries quicker.
2. Battery Grips Provide Vertical "Portrait" Camera Controls
A more ergonomic  position for your hand to securely grip and control your settings for less arm and wrist fatigue.  It takes little getting used to if you are accustomed to using the regular camera controls on your 70D.  
Many photographers who've purchased a battery grip and used it fairly extensively don't want to use a camera without one.
3. Battery Grips Create a More Balanced Feel with Big Lenses
This is more of a subjective preference than a functional difference.  Long lenses can make a DSLR feel front-heavy and awkward to hold.  Adding the size and weight of a battery grip attached to the base of the camera distributes the weight more evenly.
Secondly, having a grip on the bottom of your 70D gives it a larger footprint, acting almost like a wider stand when you set your camera down in between photo shooting sessions.
For many photographers, this is the way to get the same balance you get with one of the Canon 1Dx series of pro DSLRs.
The Canon BG-E14 Battery Grip has full system compatibility with the Canon EOS 70D Camera.  It gives the photographer improved handling and versatile control.  Extended battery life is the most obvious benefit to having one of these accessories.
The BG-E14 accepts either one or two LP-E6 battery packs.  Two battery packs will double the camera's battery life.  You can also use six AA batteries or the ACK-E6 AC adapter kit for continuous power using electricity.
The grip's design makes shooting with a vertical orientation easier as well as making it more comfortable to hold the 70D.  The grip is integrated with multi-function, AE/FE lock button, AF point selection button, main dial and shutter release buttons.
It weighs a little over 10 ounces and comes with a protective cover, a soft case for the battery magazine, and a 1 year warranty.
Canon BG-E14 compatibility
The table below shows the cameras that the BG-E14 grip (and all of the other Canon grips) works with.
Videos of the Canon BG-E14
Another way you can get a feel for whether any product is a good fit for you is too watch a video or two on YouTube. This first video features an alternative to the Canon made battery grip, one made by a different company.
If you have the time, about 11 minutes, it's worth watching, particularly if you've never used a battery grip on a DSLR before.
The next video on a Vivitar battery grip does a great job of showing how you install your grip on your EOS 70D. One of its great features is the ability to safely store your 70D battery door.
It sounds like a scary process, but really it's an easy task to accomplish and it's necessary to do in order to attach your grip to your 70D. The presenter's hands are a bit distracting in the beginning of the video, but it you'll get a good ida on how the grip is installed and how it functions
Where to Buy a Canon BG-E14 Battery Grip
Whenever I investigate a camera or one of it's accessories, I find it useful to read the reviews and opinions of other photographers.  No matter where you buy, Amazon is a great resource to investigate products.
I also buy cameras and accessories from dedicated professional camera retailers like Adorama or B&H Photo.
As an Amazon affiliate Canon Camera Geek receives a small commission from qualifying purchases, at NO added cost to you.
Have a blast. Keep shooting your Canon!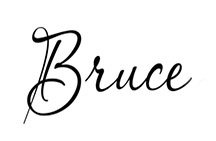 Bruce Lovelace is the publisher of Canon Camera Geek. Read more about him on the About Page. He also publishes how to articles and camera gear reviews at the Photography Tips website.
View some of Bruce's photos on Instagram  and Flickr.   Join the tribe of followers on YouTube. Bruce also runs photo workshops and provides 1 on 1 digital photography coaching.
---
---