This page may contain affiliate links that pay me a small commission. There is no cost to you. You can review the affiliate statement at the very bottom of this page if you want more information. As an Amazon affiliate Canon Camera Geek may earn a small commission from qualifying purchases, at NO added cost to you.

Canon Cinema Primes Lenses With DSLR
Hello! I have a canon 70d DSLR, I was just wondering if the Canon Cinema Prime lenses would be compatible with it, it says on the website that they work with EOS DSLRs but just wanted to clarify? Please let me know! Thank you,

Hi Neil,

Thanks for your question about compatibility of Canon Cinema lenses on their DSLR cameras. Yes, the Cinema prime lenses have EF mounts and will fit on your Canon 70D and other APS-C "crop" cameras, but there are a few things Canon shooters should know about. Additionally, they'll also fit on full frame Canon cameras as well.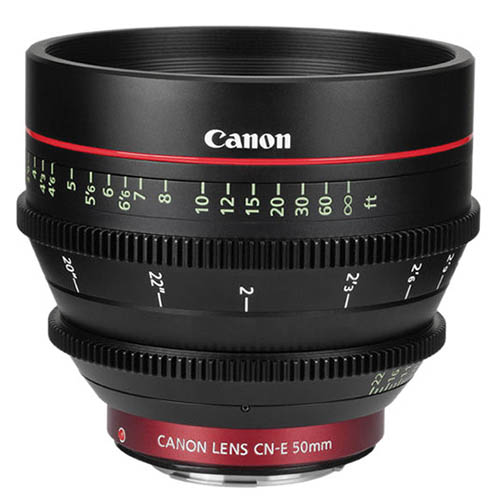 Cine Prime Lens on APS-C Crop DSLR Cameras
1. CROP FACTOR
. The 70D is a crop sensor camera. It has a smaller sensor than full frame so the angle of view you get out of a lens will be reduced by a factor of 1.6X on your 70D. What's that mean? If you choose a 50mm lens it will give you the same view as an 80mm lens (50mm x 1.6 = 80mm). If you choose a 35mm lens it will have the same angle of view as a 56mm lens (35mm x 1.6 = 56mm).
2. PRIME.
Prime lenses are non-zooming. They have one focal length. They give you super sharp images and they are usually made to be fast, meaning they have a large maximum aperture. You can get absolutely beautiful out-of-focus effects,
Bokeh
.
3. PRICE.
Canon Cine lenses are pricey. They use the best image technology they focus more precisely and smoothly than typical lenses. They are made for the professional film market and are made to last forever.
4. MANUAL.
Canon Cine lenses intentionally don't have auto-focus. You focus everything manually. This gives you finer control on what you want to focus on in your video as well as smoother transitions.
Benefits of Canon Cine lenses on DSLRS
With the right technique, using a Cine lens on your DSLR makes your video look amazing. You're saving money by using an affordable, but capable DSLR, like the Canon 70D, rather than a pricey cinema camera, and getting great video. Having the Canon 70D as you main camera for shooting both stills and video saves you on the equipment you have to carry.
The 70D is a fine camera, shoots great video, and very affordable at this point too. You also have the versatility of using either
EF or EF-S
lenses on it. I used my 70D for many years before upgrading to a 90D just recently. Please let me know what Canon Cine Lens you choose.
Have a blast. Shoot a Canon!
Bruce