This page may contain affiliate links that pay me a small commission. There is no cost to you. You can review the affiliate statement at the very bottom of this page if you want more information. As an Amazon affiliate Canon Camera Geek may earn a small commission from qualifying purchases, at NO added cost to you.

Canon M50 Half Case Grip
by Sarah
(Bangor, PA)
Hi, while I was looking for battery grip for my Canon M50, I seen that they sell half case grips. What would be the purpose of this type of grip?

Hi Sarah,

Thanks for your question about the bottom half case for the Canon EOS M50. The chief advantage of using this "grip" is that it gives you protection for your M50. The Canon M50 has not been around for long enough for Canon and other accessory makers to have developed a ton of gadgets and add-ons for the camera, but the half grip is one exception.

My very first camera (Topcon 100 film camera) I ever used had a 2 piece case and the bottom half was quite similar to the M50 case you're asking about. I found the top part cumbersome to unsnap each time I wanted to take a photograph. I just left the bottom half of the case stay on the camera except when I had to change the roll of film (every 36 photos).

M50 Half Case
ADVANTAGES:1. PROTECTION
The half case protects the bottom of your M50 against damage from bumps. More than half of bumps and bruises on your camera are likely to occur on the bottom of your camera.
2. WIFI
You can use WIFI without removing the case.
3. BATTERY
You can change your M50 battery without removing the case. Not a big deal, of course, but still a nice feature.
4. MEMORY
It's also easy to change to a fresh memory card without having to remove the case.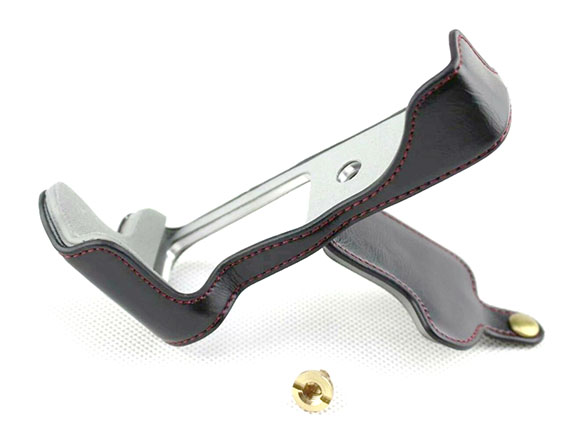 Black M50 Camera Case
I read the reviews on Amazon for a brown leather version of the M50 case and they opinions were quite positive. One of the recurring comments was that the half case improved the feel of the camera in the photographer's hands. Click the photo to read the reviews.
As an Amazon affiliate Canon Camera Geek receives a small commission from qualifying purchases, at NO added cost to you.
I hope this answer was helpful, Sarah. Please do let us know if you end up trying one of these half cases for your M50.
Thanks,
Bruce
Canon DSLR Accessories
Must Have Canon Accessories