This page may contain affiliate links that pay me a small commission. There is no cost to you. You can review the affiliate statement at the very bottom of this page if you want more information. As an Amazon affiliate Canon Camera Geek may earn a small commission from qualifying purchases, at NO added cost to you.

---
Canon Rebel Shutter Button Issue
(black sticky mess by the button to take pictures)
by Pam
(South Carolina)
"I have a 35mm canon Rebel. I noticed that when I grabbed the part of the body where you push the button to click pictures IT IS STICKY AND THE BLACK COMES OFF ON MY FINGERS. Could you please advise how I can get rid of the sticky and the black coming off on my fingers. This is not battery yuck, the batteries were removed a year or so ago maybe more. The camera is in good working order just that black sticky mess.

Thank you for your time and hopefully you can help me with this.

I can't upload a picture, I AM NOT COMPUTER SMART ENOUGH FOR THAT. SORRY"

Hi Pam,
Sorry you're having an issue with a black sticky substance on your Canon Rebel shutter button. Which Rebel do you have?

My initial thought is that it is either an adhesive or a breakdown of the shutter button itself. It is definitely a challenge for me to understand exactly what is happening without a photo. Rubbing alcohol might be a solution. If your camera sat in a not-so-ideal environment for some time, a simple cleaning might not be enough.

Is it possible that you can shoot a photo on your phone, share thru Facebook, send it from your phone via email (or get a tech-savvy friend to do that for you with their phone). You can send it to my email directly bruce @ better-digital-photo-tips.com

I hope this helps somewhat. Good Luck,
Bruce
---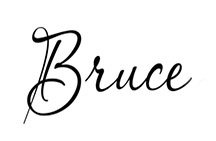 Bruce Lovelace is the publisher of Canon Camera Geek. Read more about him on the About Page. He also publishes how to articles and camera gear reviews at the Photography Tips website.
View some of Bruce's photos on Instagram  and Flickr.   Join the tribe of followers on YouTube. Bruce also runs photo workshops and provides 1 on 1 digital photography coaching.
---
---
---
---
---