Canon t3i Tips for beginners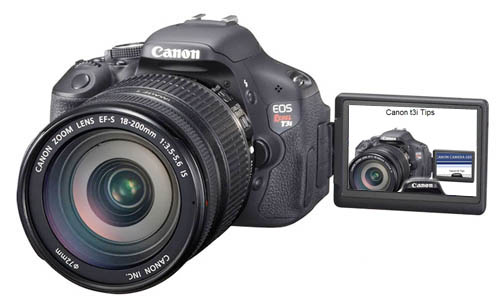 I did a Google search on "Canon t3i Tips" just for fun, to see what kind of results I would get. The results were very disappointing. First, there are Canon tips specific to the rebel t3i camera and then there are tips that are good for any digital SLR camera. 
Best Canon t3i Tips
These tips take advantage of a few of the specific features of the Canon EOS Rebel t3i.
USE VIDEO SNAPSHOTS - A fun way to create a video album is to use the 2,4, or 8 second video snapshot mode and the t3i will splice these short clips into a movie.
TRY MULTI-ASPECT - You can change the aspect ratio, the width toy height ratio.  this can give you more interesting composition.  The t3i will shoot in the normal 3:2 ration or you can change ti 4:3, 16:9 or even 1:1 for a square composition. This "forces" you to get creative in your compositions and experiment.
USE THE CANON 270EX-II SPEEDLITE - It's real simple to use and gives such better results when you use the bounce feature of the Canon Speedlite 270EX-II.  You can also use the 270EX II on a slave setting which can be activated by the Canon t3i flash that's built into the camera.
TEST THE SCENE INTELLIGENT AUTO MODE - Designated by an "A+" on the mode dial, this enables the camera to analyze the scene in front of the camera and set it's image processing and exposure to what it calculates is appropriate.
Tips Not Just for the Canon EOS Rebel t3i
Have you ever heard of the EDFAT METHOD. That's an acronym for Entire, Detail, Frame, Angle, Time. It's used by photojournalism photographers and it can be quite useful for Canon t3i shooters as well. It's a great technique to use when you want to tell a story with your photography.
It's really intended to be used when you are combining a series of photographs in an essay, but it is very valuable to use it when shooting a variety of individual photographs.  The EDFAT method helps you to get away from the standard view that most photographers take.
ENTIRE - include the entire environment in your photo to set the stage. It serves as an introduction to the subject matter, including people and how they relate to the place they are in.
DETAIL - Move in close to the subject after you've taken the first photo.  Look for details you want to emphasize.
FRAME - Use the viewfinder to frame it to an appealing composition. Consider the Rule of thirds, leading lines, negative space, balance and color when composing.
ANGLE - Now explore the possibility of changing your angle.  The Rebel t3i has a swiveling LCD screen which makes it easier to shoot at ground level or at an above eye-level perspective
TIME - Time it just right. Are there any moving elements within the photo or is the light going to change for better or worse. 
Use the Right Canon t3i Accessories
The EOS Rebel t3i combined with the 18-55 kit lens will handle a lot of photographic situations quite well.  
There will be instances though when you;ll really want to have one of the many Canon t3i accessories to take your photography with the t3i to a whole new level of enjoyment.
There are both Canon-made accessories as well as some third party gadgets that are worthwhile considering.  Here is more on that topic:  Canon t3i Accessories.
You can get more tips on what accessories are going to appeal to you by doing some window shopping, even if you have no intent to buy anything expensive.  There are some very affordable accessories that will expand your ability to take some great photos.


Bruce Lovelace is the publisher of Canon Camera Geek. Read more about him on the About Page. He also publishes how to articles and camera gear reviews at the Photography Tips website.
View some of Bruce's photos on Instagram  and Flickr.   Join the Tribe: YouTube. Visit the Canon Geek FaceBook Group. Bruce runs photo workshops and provides 1 on 1 digital photography coaching.
---
As an Amazon affiliate Canon Camera Geek receives a small commission from qualifying purchases, at NO added cost to you.