This page may contain affiliate links that pay me a small commission. There is no cost to you. You can review the affiliate statement at the very bottom of this page if you want more information. As an Amazon affiliate Canon Camera Geek may earn a small commission from qualifying purchases, at NO added cost to you.

Damaged Lens and Canon 77D Not Working
by Sandi
(Richland, WA, USA)
I am an amateur photographer who mostly shoots in automatic mode. I had successfully taken thousands of good photos using a Canon EOS 60D camera over the years. In 2017, setting out on a cruise from Seattle, a bottle of orange juice with a defective lid leaked onto my camera in my bag at the airport. I didn't discover it until I was in Rome. The camera was inoperable. I replaced the camera when I returned with a Canon EOS 77D. I didn't replace the lens (Canon EFS 18-200mm), not knowing if it had been damaged. The new camera has been a source of frustration to the point of just using my cell phone to snap photos. The problem is at random times the shutter won't depress. I have even had it on a tripod, same distance from the subject, and had the shutter depress one time, and not the next. I have never known if I got a defective camera, or if a damaged lens could cause this problem. Any advice you could give me would be greatly appreciated.

Hi Sandi,

Sorry for your issues with your Canon 77D and 18-200mm lens. Congrats on getting a newer 77D.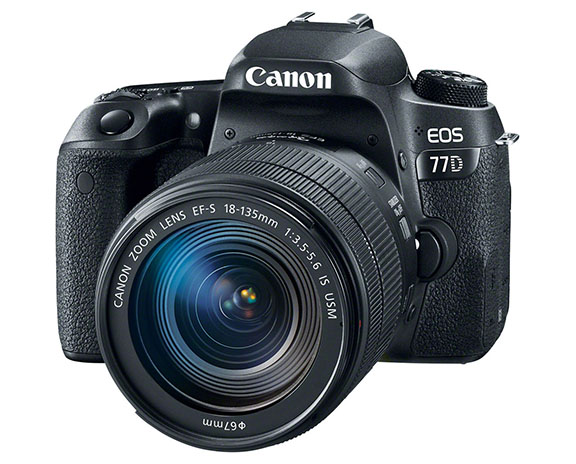 Canon EOS 77D
The 77D has a solid auto-focusing system. It could be a simple matter of dirty contacts on your 18-200 lens. If your lens and camera are not communicating perfectly, it may be preventing your lens from focusing at times, and thus causing your 77D not to fire.
How to Clean Your Canon 18-200mm Lens
Use cotton swabs and rubbing alcohol to clean off the contacts on the end of your 18-200. Also check out this post on my sister website:
How to Clean Your Camera Lens
.
If you have a 2nd lens to use on your 77D, it would make sense to use it and see if you ever have the same issue. I hope that helps. You could also have the lens cleaned/repaired, but it may be just as good of an idea to buy another used one in excellent shape.
I hope this helps. Please let me know how you overcome this issue with your 77D and 18-200mm lens.
Thanks,
Bruce