This page may contain affiliate links that pay me a small commission. There is no cost to you. You can review the affiliate statement at the very bottom of this page if you want more information. As an Amazon affiliate Canon Camera Geek may earn a small commission from qualifying purchases, at NO added cost to you.

How To Show G5X Mark II
Camera Details On Photographs
by Geraldine
(Australia)
I have a G5 X Mark II and when I download the photos onto the computer it does not show the camera details, but I have been able to do so manually. How do I get it to show automatically?

Hi Geraldine.

It's great to hear from one of the Canon Geek's readers from the Land Down Under. Thanks for asking about meta data showing up on your computer, once downloaded from your Canon G5X Mark II. I'm not sure I understand your question 100%, but I'll give it a try. Feel free to respond with a clarification.

I don't know what software you're using to view your G5X Mark II photos, but if I understand it right, you need to change settings on your computer, not in the G5X Mark II menu.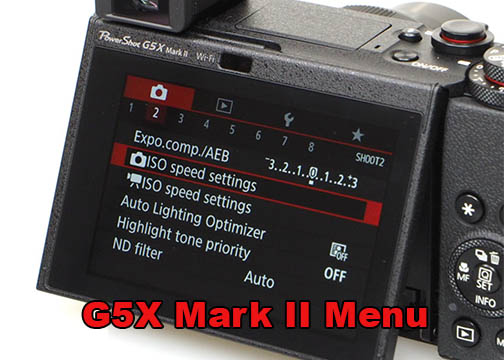 Some software will show the hidden (meta data) and some won't. Are you using Windows file viewer or Canon's software? For the questions other Canon Geek readers have about whether the G5X Mark II is any good, I've included my thoughts on this unique camera below.
Canon G5X Mark II Pluses and Minuses
Geraldine, the G5X Mark II is a great, take anywhere camera that fits in a pocket. I I didn't already own a G1X Mark II, it's likely I'd have a G5X Mark II instead. My biggest peeve with the G1X Mark II is the need to add the EV-1 viewfinder. The pop-up viewfinder on the G5X Mark II is perfect.
Here's are two tables with the best and worst features of the Powershot G5X Mark II camera.
G5X Mark II Advantages
See the table below.
| | |
| --- | --- |
| G5X MARK II FEATURE | ADVANTAGE |
| Pop-Up Viewfinder | Viewfinders are so much better to use for composing your photograph, especially when you're shooting in a bright environment |
| RAW Mode | Gives you the ultimate control and freedom to process your G5X Mark II images in a variety of ways |
| Video | You can get creative with shooting slo-motion video at 120 frames-per-second |
| POCKET-SIZED | The G5X Mark II really can fit in a decent sized pocket |
G5X Mark II Disadvantages
See the table below.
| | |
| --- | --- |
| G5X MARK II FEATURE | DISADVANTAGE |
| G5X M2 Grip | I like a bigger, more secure grip when hand holding a camera-but hey, it is a compact camera. |
| Price | This is not a cheap camera and this Powershot camera may be too much of an investment for the casual Canon shooter. |
| Action Photos | The G5X Mark II is not a great camera for shooting sports, action or active wildlife. It's okay, but not that fast for fast moving subjects |
Geraldine, let me know if you solve your issue on the camera data showing up automatically on your computer when using your Powershot G5X Mark II.
Stay inspired.
Shoot a Canon!
Bruce
RELATED:
Canon G1X Mark II
How To Choose a Point + Shoot Camera