image browser ex
by Kel
(Adelaide ,S, aus)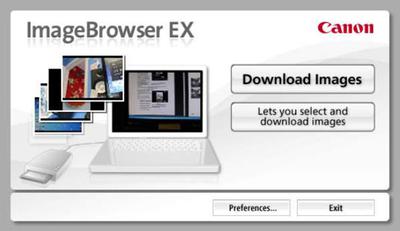 Canon Imagebrowser Screenshot


HI Taem,
I have loaded Image Browser on my new computer. How do I download pictures from the USB stick.
Cheers Kel Grigg

Hi Kel,
Thanks for your question to Canon Camera Geek. I'm not sure what Taem refers to, but I'll try to answer your question>

What is Imagebrowser EX
Canons description:
ImageBrowser EX is the image management software program for Canon's digital cameras and digital camcorders. This software makes managing and searching for images shot with cameras and camcorders very easy. You can use the software for editing, printing and sharing images.
I'm not sure why you're downloading your images from a USB drive, but you first stick your USB drive into the USB port on your computer. Then copy them images or image folder over to your computer to a location that you will be able to find easily with the Canon software or your other preferred editing software.
I'm not a big fan of the
Canon Imagebrowser
, and in fact, never use it. Canon software comes up real short in its user interface in my opinion. They should have 1 software that does everything. I'd use the EOS Utility.
I only use the
Canon EOS utility
occasionally to control my Canon 70D camera during presentations I do for a local adult school where I teach a course on Basic Digital Photography. To my knowledge, it isn't really best used for transferring images from a USB drive. The browser is better for importing directly from you camera with a tether or wirelessly for some folks.
Please let me know how you make out.
Good Luck
Bruce