Canon 5d s vs Canon 5D s r
by Luke Hicks
(Denver CO)
What's the difference between the Canon 5DS and 5DS R. I am leaning towards the 5DS R but what's your recommendation? I also have lenses from my old Canon rebel would my these lenses fit my new Canon 5DS R as well as my old memory cards?

https://www.amazon.com/Digital-Low-Pass-Cancellation-International-warranty/dp/B01BPH5T98/ref=sr_1_4?ie=UTF8&qid=1527096931&sr=8-4&keywords=canon+5dsr

Is this a good price for a body only?

Hi Luke,

Thanks for your question about the difference between the Canon 5Ds and 5Ds r. Sorry for the delayed response. I've had a bit of a hiccup with a health issue.

The only difference between the models is that the 'S' has an optical low-pass filter, while the 'SR' has a self-cancelling filter. The EOS 5Ds r is a specialized version that is intended for photographers looking to capture the maximum amount of detail possible. Personally I'm not a big fan of the auto cancelling filter. I don't like moire and I feel that sharpness is already excellent with the filter and does not need to be enhanced.

When you fit that many pixels onto a sensor, you can lose some performance at high ISO settings because the tiny pixels are not as good in collecting light as the larger pixels are. Canon reports that the noise levels with this camera is about the sames as the 7D Mark II.

The body is essentially the same as the one I have, the Canon 5D Mark III. Be prepared for huge file sizes, particularly if you shoot raw.

Good luck with your decision
Bruce


Join in and write your own page! It's easy to do. How? Simply click here to return to Ask The Canon Geek.
Canon Camera Upgrade to 5D Mark IV Or EOS R Mirrorless
by Frank
(Main Line, Pa )
"Was about to upgrade to a Canon EOS 5D Mark IV but saw the release notice on the new mirrorless full frame. Have a bunch of Canon and third party lens that I like. I don't really use video so that not part of the decision.

Any thoughts on which way I should go?"

Hi Frank,
Thanks for your questions about choosing to upgrade to a Canon 5D Mark IV or a Canon EOS R Mirrorless Camera. The quick answer is that I'd go with the EOS R mirrorless. It's more affordable and it has the advantage of two more years of technology built into it. I don't know what you're upgrading from, but there are 3 main reasons why I think you should go with the mirrorless.
THE ADVANTAGES OF THE CANON EOS R
1. MONEY MONEY MONEY.
The EOS R is almost $1000 cheaper. That could easily buy you a lot of
accessories,
like one of the unique mirrorless lens adapters or another mirrorless lens.
2. THE PROCESSOR.
The EOS R has a digic 8 processor. The 5D Mark IV has a Digic 6+. With the EOS R you get a camera that is two years newer.
3. THE WEIGHT
The Canon EOS R weighs about 25% less than the 5D Mark IV. Additional advantages when comparing the Canon 5D Mark IV vs. the Canon EOS R mirrorless cameras:
-Number of focus points
-LCD screen resolution
-Screen articulation
THE ADVANTAGES OF THE CANON 5D Mark IV
1. YOUR LENSES.
You have a collection of full frame lenses that already fit the 5D Mark IV without the need for an adapter.
2. THE JOYSTICK
It's one of my most used buttons on my 5D Mark III. I like the convenience of using the joystick. Probably not a big deal, just would take a little time to get used to the different control buttons on the EOS R.
Frank, please let me know what you decide on. I love to get reader feedback for the good of all the Canon Camera Geek readers.
Thanks,
Bruce
Pre-order Canon EOS R
Join in and write your own page! It's easy to do. How? Simply click here to return to Ask The Canon Geek.
Firmware 2.1.2. for the eos 5d mk2
Hi Bruce,
I admire your initiative with this blog. I found you while searching for a firmware update which Canon do not supply anymore: the 2.1.2. firmware for my EOS 5D II which I bought some time ago second hand. It has the old 2.0.4. Is there a way to acquire it?
With best wishes and thanks,
Diederik Meijer (the Netherlands).

Hi Diederik

Thanks for your question about the 5D II. That one is beyond me. I'd suggest calling Canon directly, if you haven't, and try some specific forums on Canon 5D.

That's a tough one as the 5D Mark II is now becoming "outdated" because of its age and how fast everything becomes obsolete because of the rate of technological advances. I sold my original 5D (Mark I) quite some time ago.

Good Luck
Bruce



Join in and write your own page! It's easy to do. How? Simply click here to return to Ask The Canon Geek.
5D mkII pairing with 1.4x extender and 100-400 ii
by nick
(nyc)
"I'm curious if the auto focus will work with a Canon 5D Mark II with a 1.4x TC and a 100-400mm USM II lens. thanks!"

Thanks for your question about the 5D Mark II, a teleconverter, and a 100-400.
This is one of combinations that is so specific that it's a situation where you have to try it to really find out.

Here are 2 resources. Let me know what you find out.

Tele-extender Compatibility

Canon Customer Care
1-800-652-2666


Warm Regards,
Bruce


High Speed Sync 5Dsr And ST-E2
by Dan
(South FLorida)
Canon 5Dsr
"Hello,

I find a strange thing happening.

While using my 5dsr camera and a 580ex II flash I find that pressing the high-speed sync button on my ST-E2 controller (sitting on my camera), in order to change the high-speed sync to regular sync (1/200) in my camera, (and then, back to high-speed sync) the flash (off camera) switches to Manual from ETTL spontaneously without warning, and I find myself having to check the underexposure frame and go to the flash itself and find it switched to Manual, then I have to press the MODE button for a couple of seconds, and then, it goes back to ETTL.

Please bear in mind that I'm using a ST-E2 module on my camera's hot shoe. This setup works very well most of the time, except when it does this switching (maybe 5-10% of the time.

What might be going on?

Most thankful for your answer, Dan"

Hi Dan,

Thanks for your question about the Canon 5Dsr and ST-e2 controller. Since I have never used this exact combination I can't comment on any of my own personal issues with communication errors between the two. Also, I have not heard of this situation arising with any of the other Canon Geek readers.

I'm sure it's frustrating and is definitely not acceptable to put up with.
Canon 5DSR-St-E2 Help
I'd recommend you contact Canon directly. When I've had issues in the past I've found them extremely helpful.
Good luck and let me know how you make out.
Cheers,
Bruce
Join in and write your own page! It's easy to do. How? Simply click here to return to Ask The Canon Geek.
Upgrade From 60D To A Canon 5D Mark 4-Comparison 60D 5D Mark IV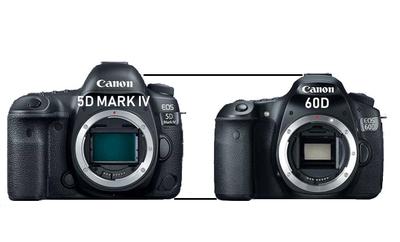 Canon 5D Mark IV vs Canon 60D Height Comparison

"I own a canon 60d and am looking at upgrading to a 5d Mark 4 camera. Some of my lenses are EFS and EF. Are there adapter rings to use both kind of lenses? Are there different software releases on the Mark 4 because looking them upon Amazon there is a variety of prices. What would be a good start out lens for the Mark 4?"

Hi Terry!

Thanks for your question about the Canon 5D Mark IV vs. The Canon 60D. Yes, there are always firmware updates released after a camera has been introduced. Price differences can also sometimes exist because of any accessories that are or are not included. I am included a link to the Amazon search results for the Canon 5D Mark IV, just to show you how offers can vary quite a bit at times.
I believe it is a good upgrade from the 60D to the 5D Mark 4.

You're jumping forward 6 years in technology-That's a lot when it comes to DSLR advancements. The 60D was a fine camera and Canon sold a ton of them. It's a good time to buy a 5D Mark IV. The price has come down at least a little since it's release in August of 2016.

You'll notice a big difference in image quality and speed because of the upgrade in the processor and the larger full frame sensor.
CANON 60D VS. 5D MARK IV SENSOR COMPARISON
You're going from a "crop sensor" to a full sensor. That's a jump of 1.6x in area and you're also jumping from 18 Megapixels to 30 Megapixels. Your file sizes will be much bigger, especially if you ever shoot RAW format-That's all I do when I use my 5D Mark III. Memory cards are so big and fast and affordable that file size really isn't an issue at all any more like it was 10 years ago in digital photography. You'll only be challenged when you edit your images if your computer is an antique
CANON 60D VS. 5D MARK IV LENS COMPARISON
You won't be able to use any of your EF-S lenses from the 60D on your 5D Mark IV. They don't provide enough of an image circle to cover the increased surface area of the 5D Mark IV. That's one of the biggests challenges for photographers like you who are considering going from a crop sensor to a full frame.
60D VS. 5D MARK IV HIGH ISO PERFORMANCE
Not only will you be able to shoot in more dimly lit situations, but the noise levels when shooting at high ISO settings is so much better in the 5D Mark IV. It will open up a whole new level of existing light photography that the 60D simply wasn't capable of. Thanks for your patience in waiting for my answer to your question. I've been quite busy with another photography project
;-)
Hope that helps! PLEASE PLEASE let me know what you decide. I am often curious about how the readers of Canon Camera Geek make their choices after an initial inquiry.
Good Luck,
Bruce
Link to Canon 5D Mark IV Listings on Amazon
p.s. If you like a little extra technology you'll also enjoy using the GPS and Wifi capabilities on the 5D Mark 4 that are absent in the 60D. That's fun stuff!
Join in and write your own page! It's easy to do. How? Simply click here to return to Ask The Canon Geek.