This page may contain affiliate links that pay me a small commission. There is no cost to you. You can review the affiliate statement at the very bottom of this page if you want more information. As an Amazon affiliate Canon Camera Geek may earn a small commission from qualifying purchases, at NO added cost to you.

2x Tele Extender on
Canon Rebel t7-2000D
by John
(UK)
I have a canon EOS 2000d and a EF 75-300mm lens. Can I use a 1.4 or 2 x extender ?

Hi John from the UK!

Thanks for asking about compatibility of using either a 1.4x or 2x tele-converter between your Canon 2000D(t7 here in the USA) camera and an EF 75-300mm lens.

The first thing to know is that EF lenses, like the 75-300, will work perfectly on both full frame Canon DSLRs as well as crop sensor (APS-C) cameras like the t7. You do need to remember there is a 1.6X crop factor.


Teleconverter Compatibility
Secondly, the EF tele-converters are made specifically for EF telephoto lenses where there is ample room within the back of the lens barrel to fit the protruding lens elements on the teleconverters. See the photo below.
Yes, it fits.
Canon teleconverter and 70-200mm lens
Generally speaking, most wide-angle, normal focal length, and moderate telephoto lenses are not compatible with teleconverters because they're designed to work with super-telephoto lenses. There are some exceptions.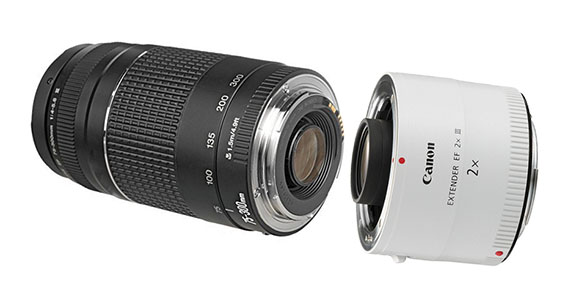 Protruding lens elements clash
Canon teleconverter and 75-300mm lens
Although I've never personally tried to attach a teleconverter to a 75-300mm lens, I don't believe it will work. John, this is likely not the answer you were hoping for, but I hope it helps you. Feel free to comment if you have any other questions. :-)
RELATED POSTS
Canon Lens Accessories
All Canon Lenses