This page may contain affiliate links that pay me a small commission. There is no cost to you. You can review the affiliate statement at the very bottom of this page if you want more information. As an Amazon affiliate Canon Camera Geek may earn a small commission from qualifying purchases, at NO added cost to you.

About Video Shooting With Canon 760D
by Kc Deep
(Kathmandu. Nepal)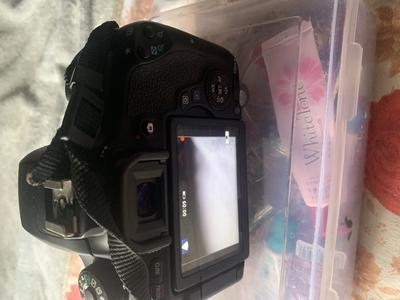 Canon 760D (t6s)
in Video Mode


"When I turn my Canon 760D (Rebel t6s in the USA) to video mode and record a video it goes dark screen after few minutes. seems like the camera is on sleep mode. What exactly is the key fix this problem?"

Hello Kc,

Thanks for your question about your Canon t6s (Canon 760D in Nepal) shutting down in video mode. I know it's frustrating to have this issue as the same thing happens with my Canon 70D. There is an automatic shut down after a period of inactivity which is designed to save battery power. Battery power is consumed faster when your camera is in video mode and you have to "wake up" your camera by pushing the shutter release button or live view button to get the power going again.


Canon t6s Power Issue During Video
It's even more troublesome when your right in the middle of shooting a video clip and the t6s shuts down. I found out with my 70D that a partially discharged battery-where the voltage is slightly reduced-caused this problem.
I have several older batteries that fit my 5D Mark III, Canon 70D and 90D. Although they still charge, I believe that the slightly reduced voltage is the reason for the shutdown during video. When I inserted a new and fully charge battery, I did not have any more shutdowns during video shooting.
The Rebel T6s/EOS 760D was a surprising upgrade in how it handles more like the top of the line Canon DSLR cameras and you shouldn't have to deal with a power down issues when shooting video.
Kc, check the condition of your battery and see if that helps. Please let me know if this solves your issue with your 760D shutting down when shooting video. It would also be interesting to find out if using a
battery grip
would help solve the problem.
Thanks so much,
Bruce