Canon 17-40 Wide-Angle Zoom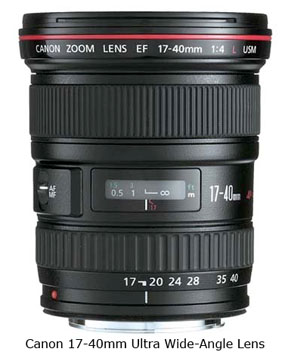 The Canon 17-40 Wide-angle Zoom Lens is one of Canon's best selling lenses.
The 17-40mm f4 is the most affordable of Canon's wide angle zoom lenses.
The 16-35mm f2.8 and the 20-35mm f2.8 are both faster and more expensive.
This Canon lens has the full-time manual focus.
It has the USM (UltraSonic Motor)for fast and quiet focusing.
It is actually considered an Ultra-wide lens when used with a full-frame DSLR.
The maximum aperture is f4 throughout the zoom range.It has the common 77mm size for filters as well as a holder in the rear of the lens for filters.
Just like other Canon "L" lenses it has the weather-resistant features built into the lens as well.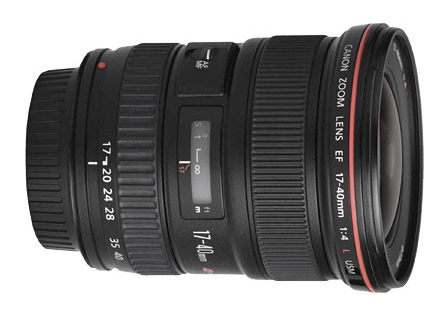 Side View of Canon EF 17-40mm Lens
It is easy to handle. It only ways a tad over 1 lb.

At the widest setting of 17mm the angle of view is 104 degrees. That's pretty wide.

At the minimum aperture of f22, your depth of field is extremely deep.
Excellent for outdoor landscape photography as well as indoors when you are trying to photograph a lot of people in a small room.

Downsides of the Canon 17-40
(1) as with many super-wide zooms, there will be some light fall-off in the corners at wide open aperture settings.
(2) Some barrel distorsion in 17-20mm range. This is easily fixed now though with Canon's software. I use Adobe Photoshop.
(3) The lens hood is bulky, but it has to be so that you don't get vignetting.
Upsides to the Canon 17-40
(1) Very affordable compared to super-wide angle zooms at f2.8
(2) You can use this as a " standard" zoom lens is you have an asp-c format Canon camera.
Side Notes:
Super wide-angle lenses are really not a good choice for macro photography and the 17-40 lens is no exception, so evaluations of this lens as a good macro lens are pointless.
For full-sized sensors, this isn't the Best Canon Portrait Lens to photograph individuals unless you are looking for "strong perspective" poses.
Optional accessory is the Soft Case LP1319.
Alternative lens choices
There are alternative wide-angle lenses for you if you're not a Canon loyalist.  At about 1/3 of the cost of the Canon lens is an alternative lens for your Canon DSLR made by Tamron.
I purchased this ones and have been quite happy with it.  You can read reviews by quite a few photographers who have purchased it on Amazon below.
When I don't use Amazon I buy from a leading on-line camera retailer, Adorama, for many of my purchases
Tamron Wide Angle Lenses at Adorama
Watch less TV
Shoot more photos
Back from Canon 17-40 to Canon Camera Lenses

Back to Canon Camera Reviews Home Page
Written by Bruce Lovelace
Bruce Lovelace on Google+