Canon 17-40 Wide-Angle Zoom
The CANON 17-40 WIDE-ANGLE ZOOM LENS is one of Canon's best all time selling lenses. Does that mean it's a good choice for you? This post will give you some ideas if it's worth the money for you to consider. 

The 17-40mm f4 is the most affordable of Canon's wide angle zoom lenses. The 16-35mm f2.8 and the 20-35mm f2.8 are both faster, but they're more expensive.
This Canon lens has the full-time manual focus. It has the USM (UltraSonic Motor)for fast and quiet focusing. It is actually considered an Ultra-wide lens when used with a full-frame DSLR.
The maximum aperture is f4 throughout the zoom range.It has the common 77mm size for filters as well as a holder in the rear of the lens for filters. Just like other Canon "L" lenses it has the weather-resistant features built into the lens as well.
what is the canon 17-40 good for?
LANDSCAPES PHOTOGRAPHY. When your shooting the great outdoors, you often want to fit more of the scene into your composition. The 17-40 is considered a super-wide angle lens and gives you the perfect range of a super wide to moderately wide angle of view. Here's the guide to all Canon lenses for landscape photography.
SMALL INTERIORS. The 17mm setting will give you the ability to shoot wide shots in cramped interior areas. Real estate photographers must used them to be able to show as much of a room as possible in each photo. The Canon 17-40 is also great for shooting a large group of people indoors where you don't have much room to use.
ARCHITECTURE. Similar to shooting landscapes, you need to show as much as you can of a large subject. Tall buildings, bridges, any large subject needs a lens to have a wide view to fit large subjects into your photograph's composition.
STRONG PERSPECTIVES. Super wide angle lenses the the 17-40 give you strong perspectives for creative photography. Objects closer to the camera appear disproportionately bigger than objects further away.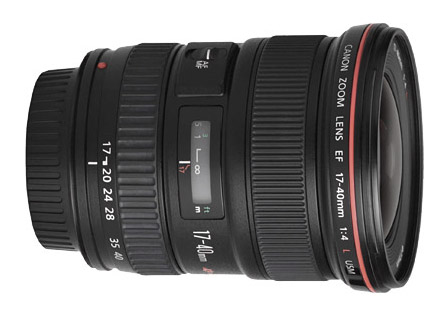 Side View of Canon EF 17-40mm Lens


CANON 17-40 highlights
It's easy to handle. It only weighs a tad over 1 lb.
At the widest setting of 17mm the angle of view is 104 degrees. That's pretty wide.
At the minimum aperture of f22, your depth of field is extremely deep.
Excellent for outdoor landscape photography as well as indoors when you are trying to photograph a lot of people in a small room.
advantages of THE CANON 17-40
Very affordable, compared to super-wide angle zooms at f/2.8
You can also use this as a " standard" zoom lens is you have an APS-C  "crop" format Canon camera.
2.3x zoom range is a little more than many (2x) zoom ranges of alternative super wide angle lenses for your Canon.
disadvantages of THE CANON 17-40
As with many super-wide zooms, there will be some light fall-off in the corners at wide open aperture settings.
Some barrel distortion in the 17-20mm range. This is easily fixed  though with software. Canon's or I use Adobe Photoshop.
The lens hood is bulky, but it has to be so that you don't get vignetting.
Canon 17-40 f/4.0 EF USM video
Watch this video shot while using the 17-40 lens on a full frame camera. You'll get a good feel on the angle of view at its widest setting of 17mm and see that compared to the view from a more typical 24mm wide angle lens.
IS THE CANON 17- 40 GOOD FOR PORTRAITS?
For me, no. Can you use the Canon EF 17-40mm lens for portraits? Yes, but really only for large group portraits or for strong perspective portraits where you want size distortion of your subject on purpose. Portraits are more flattering if a more distant, flatter view of your subject is used. Longer mid-length telephoto lenses are more typically thought of as good for doing portrait photography.
The 17-40 is more typically used for shooting landscapes, seascapes. nighttime photos of the skies and photographing interiors where the spaces are tight.
IS THE CANON 17- 40 GOOD FOR macro photography?
Super wide-angle lenses are really not the best choice for macro photography because your close working distance can be challenging. With that said, the 17-40 lens focuses as close as 11 inches and gives you a 1:4 macro ratio.

Generally speaking, most macro photographers prefer longer lenses. Normal focal length macro lenses, and even more so with telephoto macro lenses, give you farther working distances and flatter perspectives for shooting close-up photos.
Alternative lens choices
If you're like me you like to save money. I wanted to try out an alternative and report back to the readers of this site.
After a bit of research, the ongoing favorite as an alternative to the Canon 17-40mm lens is the Tamron 17-35 f/2.8-4.0. I purchased the lens below in 2014.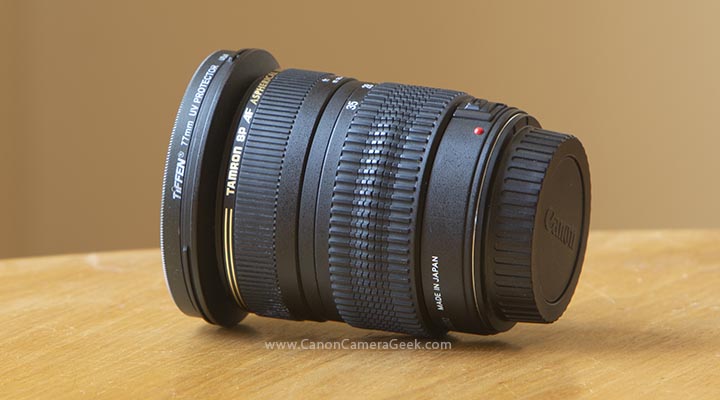 MY ALTERNATIVE: Tamron (Canon Mount) 17-35mm Wide Angle Lens


There are alternative wide-angle lenses for you if you're not a Canon loyalist. At a much lower cost than the Canon lens, the Tamron is an alternative lens to use on your Canon DSLR.
I purchased this one and was quite happy with it, accept for it's focusing noise when shooting video with my 70D. Since then I updated to a 16-35mm f/4.0 with image stabilization and I love it. You can read reviews by quite a few photographers who have purchased it on Amazon below.
As an Amazon affiliate Canon Camera Geek receives a small commission from qualifying purchases, at NO added cost to you.
---
Have a blast shooting with your Canon!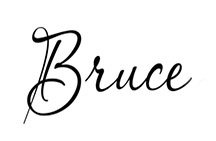 Bruce Lovelace is the publisher of Canon Camera Geek. Read more about him on the About Page. He also publishes how to articles and camera gear reviews at the Photography Tips website.
View some of Bruce's photos on Instagram  and Flickr.   Join the tribe of followers on YouTube. Bruce also runs photo workshops and provides 1 on 1 digital photography coaching.
---
---