This page may contain affiliate links that pay me a small commission. There is no cost to you. You can review the affiliate statement at the very bottom of this page if you want more information. As an Amazon affiliate Canon Camera Geek may earn a small commission from qualifying purchases, at NO added cost to you.

Canon 1DX II Custom Shooting Mode C1-C3
by Mike Kunz
(Paris, TX)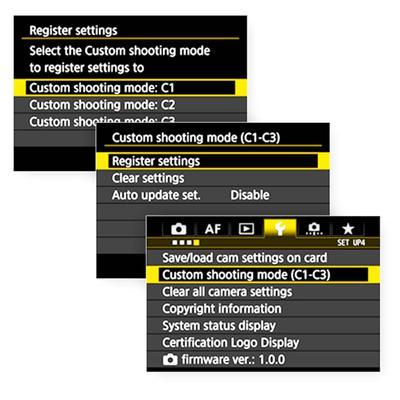 1Dx Mark II
Setting Custom Functions
"I can't get anything to go on C2 or C3. I'm trying to set it up so C1 is 120 fps and 1/250 shutter, and set C2 to 24fps and 1/48 shutter speed. I can get C1 set but I can't get anything on C2, or to even get C2 to show up in the upper window showing that its enabled? Thanks in advance for any help."

Hi Mike,

Thanks for your question on how to set the custom functions on your Canon EOS 1Dx Mark II. That's a serious piece of technology and there's no reason you shouldn't be able to take advantage of using the custom settings on your 1Dx Mark II. It's hard to help through email and not being there in person. I'll assume you took the right steps and are hitting a roadblock.
Setting custom functions on the 1Dx Mark II


Using your 1Dx Mark II manual


Following the right steps in the right order


Recently Updated firmware


I'll suggest two more avenues to try for getting the custom functions to set the way you want on your 1Dx Mark II.
Try specific YouTube searches. You may have to do several different searches to find the right one.
Secondly, whenever I get stuck with an issue like this, I've found calling Canon directly can help. You just have to be a little persistent in finding one of the technicians who is familiar with the 1Dx Mark II.
1-800-652-2666 Monday-Friday: 9:00 am to 9:00 pm. Saturday: 9:00 am to 7:00 pm
Please get back to me and let me know when you solve the issue you are having.
Keep shooting your Canon!
Bruce
Best Canon DSLR
Best Canon DSLR Accessories