This page may contain affiliate links that pay me a small commission. There is no cost to you. You can review the affiliate statement at the very bottom of this page if you want more information. As an Amazon affiliate Canon Camera Geek may earn a small commission from qualifying purchases, at NO added cost to you.

Replace S3 IS?
by David
(Brentwood, CA USA)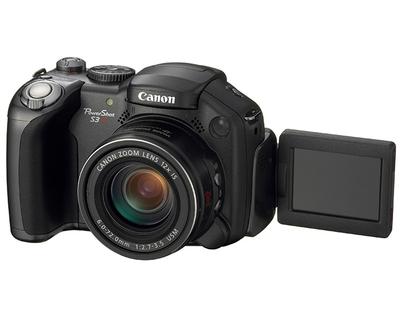 Canon S3 IS Camera


"Looking to replace my S3 IS. Would like something smaller but still with zoom, manual mode and stabilization. Under $500 would be perfect but will stretch for right camera. I like the Canon brand so what do you suggest?

Hi David,

Thanks for your question!

First of all, congratulations for holding onto and using your Canon S3 IS for so long. The Canon S3 IS was first released more than 11 years ago in early 2006. It was the third version in Canon's flagship Image Stabilized/Ultra zoom PowerShot series and was quite sophisticated for a PowerShot at that time. Looking at the specs makes us smile because the changes that have occurred in 10 years are remarkable.


Canon S3 IS Specs:

*12x optical zoom lens
*Optical Image Stabilizer
*6.0 Megapixel CCD
*2.0" Vari-angle LCD
*30fps VGA video
*DIGIC II, iSAPS and Flexizone AF/AE for fast
*2.3 fps continuous shooting
*20 shooting modes
*High ISO Auto.
*Max ISO 800
Smaller Canon Replacement
If you don't need interchangeable lenses and don't have a desire for using an external flash on a hotshoe, you can easily find a Canon camera under $500. There are also similar sized Canon SX cameras that you will be thrilled with the image quality, and how they handle, such as the
Canon PowerShot SX60 HS
The Canon G series
Although the sensors are small, The G series of Canons are "pocketable." I used a G11 for several years before I upgrade to my G1X Mark II and it was a great pointNshoot camera which shot raw, had a hot shoe, and plenty of creative settings including manual.The most recent is the G16, so you can go with a
Canon G15
to save money. It's highly rated and in your price range. If you don't need an articulating LCD screen, it would fit your size and price requirements.
The Gx series
My third recommendation is in the Gx series. Also, pocketable and definitely in your price range is the
Canon Powershot G9X
. I really need a hot shoe on the cameras I use, but if that's not important to you, this might be a good fit for you. I love the 1.0 inch sensor on this camera, fit into such a small camera body. It's also has a nice "faster" lens.
David, please let me and the readers know what you decide so that we can all benefit from your experience.
Thanks,
Bruce
Choose a Canon Camera