Can The Crop Sensor Feature Be Turned Off
When Using a Certain Lens on a Camera
by John
(Weatherford Tx)
Is there a way to turn off the sensor feature so that when using a lower lens I.e. 16 mm it shoots at 16 mm and not with the 1.6 factor?

Hi John,

Thanks for your question. You want to know if you can avoid the cropping when using a 16mm lens on your camera. It's a good question, as understanding crop sensors and the effect on the angle of view you get with a given lens is confusing for sure.

You cannot turn off cropping when using any lens on a camera with a crop sensor. Crop sensor cameras have a smaller sensor. So whether you're using a Canon EF lens that has a large image circle (intended for full frame cameras, but can be used on either sized camera) or a smaller EF-S lens, either lens will give you a "cropped" view of the scene in front of you.

The solution to getting a wider view is to use a wider lens. Using a 10mm lens on your crop sensor will give you the same angle you want that you'd get using a 16mm lens on a full sized camera. 10mm x (times) 1.6 = 16mm. The Canon EF-S 10-18 Lens would do just that. Here are some worthwhile links that might help give you a better understanding of



RESOURCES ON CROP SENSORS AND LENSES
John, here are a couple of related posts that will help you understand lens sizes and how they fit crop sensor cameras. The first link is from my YouTube channel. The second two links are from my other photography website: Hope this helps.
Youtube: Canon EF-S versus EF Lenses
. Ef-S "crop" lenses will only fit on "crop cameras."
What Full frame Sensors Are Versus the Smaller Crop Sensor Cameras.
What Does Crop Sensor Mean
Feel free to get back to me with any other questions.
Bruce
Join in and write your own page! It's easy to do. How? Simply click here to return to Ask The Canon Geek.
---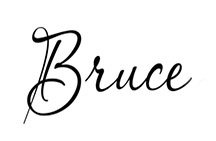 Bruce Lovelace is the publisher of Canon Camera Geek. Read more about him on the About Page. He also publishes how to articles and camera gear reviews at the Photography Tips website.
View some of Bruce's photos on Instagram  and Flickr.   Join the Tribe: YouTube. Visit the Canon Geek FaceBook Group. Bruce runs photo workshops and provides 1 on 1 digital photography coaching.
---
---