3 Canon 70D Kit Options
You can get the good, the better, or the best with a Canon 70D kit.  How do you decide which option for a kit is the right one for you?
Here is the good, the bad, and the ugly about three options for a package deal for your 70D.
The Basic Kit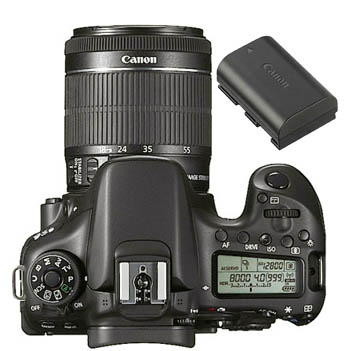 Canon 70D. 18-55 lens - battery
The camera comes with the 18-55mm kit lens, battery, and nothing else.
This is the most affordable way for you to get involved.
More photographers choose this option than any other.
You like to save money like the rest of us.
This is a great option if this is your first DSLR.  You can experience a full range of shooting opportunities without taking out a second mortgage on your home. 
The Better Kit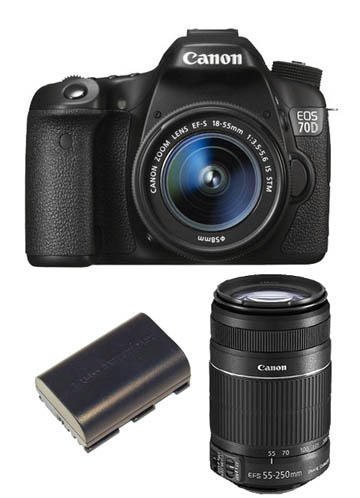 70D kit with two lenses
For about an extra $50 you can the 70D and two lenses.
You get the standard 18-55 lens, battery AND the 55-250mm telephoto zoom lens.
This gives you a tremendous range of zoom for only a slightly larger investment.
The combined zoom range is 18-250, or about 14x.
With the two lenses, that's the equivalent of a 28-400 on a full frame camera.
With that much magnification and 7 frames per seconds, you can now shoot sports and wildlife and get some great shots.
The Ultra Canon 70D Kit
Can you say overkill?  This kit has 5 lenses.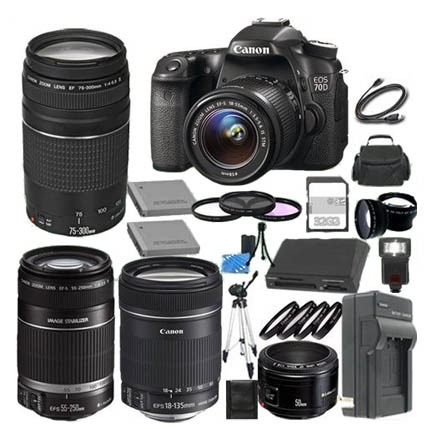 Canon 70d-5 lenses-many accessories
The filters, the flash, the tripod, the memory card, and the camera case are all valuable accessories.
Do you really need so much overlap in terms of focal length?  The 18-55 and 18-135 cover the same zoom.  The 55-250 and the 75-300 are too similar as well.
You can compare for yourself and see which is the best option for your situation:
Options and Consumer reviews of Canon 70D Kits on Amazon
Reading reviews from real people can give you feedback from other photographers who have already purchased and used a product.
This gives you the advantage of finding out a lot about a product before you even try it out for yourself.
Shoot more photos
Watch less TV
Bruce