Canon EOS 70D Kit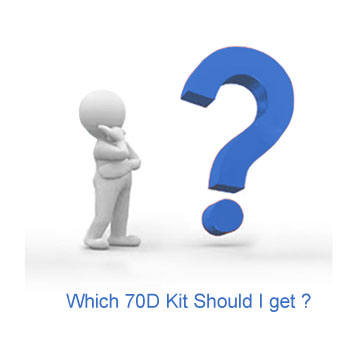 Looking for the best Canon EOS 70D Kit?
You can save money on the kits, but you first want to take inventory of what accessories are most important to you.  
There are many equipment options available, but the best lens for your 70D should be at the top of the list.
A good kit lens should allow you to handle most of your photography situations and should last you many years.  
That's why pro photographers spend so much money on the best optics for their cameras.  
Standard "kit lenses," on the other handle are much more affordable for the casual shooter and the photo enthusiast,  They are quite a bit cheaper than the pro level lenses.
I've linked to a couple of Canon 70D bundles here.
Best Canon EOS 70D Kit Lens
There are two clear standouts on the list of good kits lenses for the EOS 70D, the standard 18-55mm and the 18-135mm.  Both of these lenses are EF-S lenses,meaning that they are specifically made for APS-C cameras, like the OES 70D.
The 18-55. Extremely popular because of it's price tag and compact size. It's the equivalent of a 29-88 zoom range, which is about a 3x ratio. Pay attention to the specifics, as there are several version of the 18-55 lens.
The 18-135. Also very popular with Canon shooters because of it's price tag, slightly larger to carry, it sports a 29-216 zzom range which is a 7.5 x.
What Other Accessories Should You Seek in Your 70D kit?
It usually depends on what you already have and what photographic situations you will be in.  For some the simplest of kits simply have the DSLR body and one lens.  I included some links below on Amazon to give you an idea of the diversity of options available to you.  
If you see yourself wanting to shoot sports or wildlife, then a kit with a longer zoom such as the 72-300 makes sense. 
The two most popular accessories are an extra battery and an extra memory card. Tripods, camera bags, filters, cleaners, battery chargers, and battery grips come with some of the more complete kits
Disadvantages of Kit Lenses
Kit lenses are definitively the best way to go for first time DSLR users.  If you are just starting out, going with a Canon EOS 70D kit lens is a smart choice.  They are very affordable and are fairly versatile in what you can accomplish is the large majority of shooting situations.
They do have some drawbacks.  The auto-focus on kit lenses may be a bit slower than the higher priced lenses. If you don't do much action photography, this may not be too big of a deal.
The focus motor also may make a little more noise when moving the lens elements.  This could be important when shooting video in quiet situations when you have audio involved in your recording.
Secondly, they are usually "slower," meaning their maximum f/stop is not as wide.  This may limit your low light situations or situations where you want the background to be significantly out of focus by limiting your depth of field.
Finally, different materials are used for manufacturing kit lenses. Pro lenses use more metal, less plastic, and have better weatherproofing.
Different 70D Kit Combinations - As Shown on Amazon
Click the photos below to view three different options for a Canon EOS 70D Kit.
Watch Less TV
Shoot More Photos
Go to Canon Camera Reviews Home Page
Go to Canon Camera Accessories