Canon 70D Remote Cord
Canon RS-60E3 Shutter Cord
Using a 70D remote cord will give you sharper photos and help you expand your creativity. The fact is, taking a blurry photo is the single biggest complaint people have about their own photography.
A remote shutter cord will prevent blurriness from camera jiggle, but there are many other good reasons to get a shutter cord for your EOS 70D. Time-lapse photography, multiple exposures, and nighttime photography are three more ways you can use a shutter cord to get some great shots you'll be proud of.
You do have several options when you want to trip your shutter without using the shutter button. There are various choices for a 70d remote cord with different levels of quality and features. You also can use your camera's self timers in some situations.
The RS-60E3 shown above is a simple remote cord made by Canon that is designed specifically for you to use with your EOS 70D as well as these cameras.
You can also get non-Canon made shutter cords for your EOS 70D for less money. I splurged ($17.98) on a Timer/shutter release combo by Neewer.
The Neewer cord gives you more capabilities than just the shutter-releasing versions that are smaller and cheaper to buy.
Whatever device you choose, you'll like the idea expanding your creativity, taking better photos, and having more fun with your photography.

70D Remote Cord Uses
1. Steadying your camera for long exposures. Yes, this includes the obvious night time photos when exposures may be several seconds.
You will want to use a remote trigger and a steady tripod for photos that could be hand-held, but where you want a really sharp photo. Pushing the shutter button by hand can easily jiggle your tripod-mounted camera even a tiny bit and result in a slightly unsharp photo.
2. Combining two images into one. The camera must be in the exact same place for both photos. Using a remote cord and a tripod will make sure your camera doesn't move.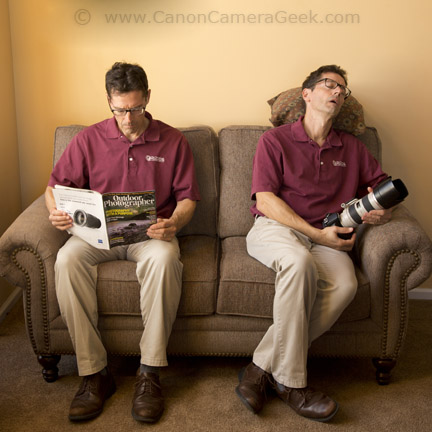 Use a remote cord when you are taking two photos of the exact same location, like this pre-planned double-me selfie. After I took two different photos, without the camera moving, I easily combined them into one photo with software.

3. Time lapse photography. You can get all kinds of fun results when you shoot a moving subject at set time intervals and then converting the still images into a video.
This was the main reason that I bought the kind of cord I did. It has a built-in intervalometer. I made two chief mistakes when I shot my first time lapse with my 70D remote cord, but overall I had a blast and I learned a lot on my first attempt shown here: 
---
INTERVALOMETER:

An attachment or facility on your camera that operates the shutter regularly at set intervals over a period.
---
Next time I'll make an adjustment to my technique to avoid the flickering and I'll remember to use manual focus right from the start. This melting ice time lapse video was made from 461 individual photos and reduced down to an 18 second video.
If I didn't have the Neewer 70D remote cord I would have had to stand there and trip the shutter 461 times over a two hour time span!
The Neewer LCD Timer Shutter Remote Control
I chose a 70D remote cord made by Neewer. It's a lot more sophisticated in terms of all the things you can do with it.
It works as a simple timer, an interval timer for time lapse, a countdown timer, or a long exposure timer.
It's a real cheap way to experiment with time lapse photography.
70D Shutter Cord


If that's the type of photography you want to play around with, you;ll have a lot of fun with this type of accessory. Some of the newer DSLR cameras have time lapse built-in, but my 70D does not.
Why I chose the Neweer Cord For My 70D
Simply put, it had the best ratings for the cheapest price. I am an Amazon junkie, particularly when it comes to reading reviews on Canon cameras, lenses and other gadgets. There are more extensive reviews on the Amazon site than any other I know of. The Neewer LCD timer remote cord was just what I wanted for my EOS 70D.
GREAT TIME LAPSE SUBJECTS:
You have a lot of good subjects that make interesting time lapse video. Slow moving objects work best.  If you'd like time lapse photography, here are some links to spark your creativity.
Whether you get a Canon 70D remote cord or a remote cord made by someone else, you can have a lot of fun AND improve your photography. It really is a great time to have an interest in photography.
I hope you found this post helpful. For related topics check out the posts listed below my signature. Have a blast. Shoot a Canon!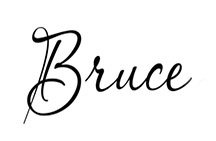 Bruce Lovelace is the publisher of Canon Camera Geek. Read more about him on the About Page. He also publishes how to articles and camera gear reviews at the Photography Tips website.
View some of Bruce's photos on Instagram  and Flickr.   Join the tribe of followers on YouTube. Bruce also runs photo workshops and provides 1 on 1 digital photography coaching.
---
Leave 70D Remote Cord - Go to All 70D Articles
Go to All Accessories for Canon
List of Canon Cameras Compatible With The RS-60E3
Compatibility List
-- EOS Rebel T3i Body Refurbished
-- EOS Rebel G
-- EOS M Black EF-M 22mm STM Lens Kit
-- PowerShot G3 X
-- EOS Digital Rebel XT
-- EOS Rebel T2i EF-S 18-55mm IS II Lens Kit
-- EOS Rebel T1i Body Refurbished
-- EOS Rebel T1i EF-S 18-55mm IS Lens Kit Refurbished
-- EOS Rebel XSi Body Refurbished
-- EOS Rebel T5 EF-S 18-55mm IS II Lens Kit Refurbished
-- Digital Rebel XSi
-- EOS Digital Rebel
-- EOS ELAN 7 / 7E
-- PowerShot G16
-- EOS Digital Rebel XTi with EF-S 18-55 Lens Refurbished
-- EOS Rebel T1i with EF-S 18-55mm IS
-- EOS Rebel T5i 18-135mm IS STM Lens Kit Refurbished
-- EOS Rebel T5 EF-S 18-55mm IS II Lens Kit
-- EOS Rebel T5i 18-55mm IS STM Lens Kit Refurbished
-- EOS Rebel T5i Body Refurbished
-- EOS Rebel TI
-- EOS 60D EF-S 18-135mm IS Lens Kit
-- EOS 60D Body
-- EOS 60D EF-S 18-200mm IS Lens Kit
-- EOS Rebel T1i (Body)
-- EOS Rebel T2i Body Refurbished
-- EOS Digital Rebel XT Black with EF-S 18-55 Lens Refurbished
-- EOS Rebel T2i EF-S 18-55mm IS Lens Kit Refurbished
-- EOS Rebel T6s Body Refurbished
-- EOS Rebel T4i EF-S 18-135mm IS STM Lens Kit
-- EOS Rebel T4i EF-S 18-55mm IS II Lens Kit
-- EOS Rebel T5i Body
-- EOS Rebel XS Black EF-S 18-55mm IS Lens Kit Refurbished
-- EOS Rebel SL1 Body
-- EOS Rebel X
-- EOS 60Da Body
-- EOS ELAN 7N
-- Digital Rebel XTi
-- EOS Rebel 2000
-- EOS Rebel T4i 18-135mm IS STM Lens Kit Refurbished
-- EOS 60Da Body Refurbished
-- EOS Rebel T6s EF-S 18-135mm f/3.5-5.6 IS STM Kit Refurbished
-- PowerShot G1 X
-- EOS Rebel T6i Body Refurbished
-- EOS Rebel T6i EF-S 18-55mm f/3.5-5.6 IS STM Kit Refurbished
-- EOS Rebel T6i EF-S 18-135mm f/3.5-5.6 IS STM Kit Refurbished
-- EOS 70D EF-S 18-135mm IS STM Lens Kit Refurbished
-- EOS 70D EF-S 18-55mm IS STM Lens Kit Refurbished
-- EOS Rebel T5i 18-55mm IS STM Lens Kit
-- PowerShot G5 X
-- EOS Rebel T5i EF-S 18-135mm IS STM Lens Kit
-- EOS 70D Body Refurbished
-- EOS 70D EF-S 18-55mm IS STM Kit
-- EOS Rebel T4i Body
-- EOS Rebel T4i 18-55mm IS II Lens Kit Refurbished
-- EOS 70D EF-S 18-135mm IS STM Kit
-- EOS Rebel T3i Body
-- EOS ELAN II
-- EOS Rebel T3 Metallic Gray EF-S 18-55mm IS II Lens Kit
-- EOS Rebel T3 Brown EF-S 18-55mm IS II Lens Kit
-- EOS Rebel T3 Red EF-S 18-55mm IS II Lens Kit
-- EOS Rebel T3 Black EF-S 18-55mm IS II Lens Kit
-- EOS Rebel T3i EF-S 18-135mm IS Lens Kit
-- EOS Rebel XSi EF-S 18-55mm IS Lens Kit Refurbished
-- EOS Rebel T3 Black EF-S 18-55mm IS II Lens Kit Refurbished
-- EOS Rebel T3i EF-S 18-55mm IS II Lens Kit
-- EOS Rebel T3 Brown EF-S 18-55mm IS II Lens Kit Refurbished
-- EOS Rebel XSi Silver Body Refurbished
-- EOS Rebel G II
-- EOS IX LITE
-- EOS Rebel T4i Body Refurbished
-- EOS Rebel T2i EF-S 18-55mm IS II Lens Kit
-- EOS Rebel T2i Body
-- EOS Rebel XS EF-S 18-55 IS Lens Kit
-- EOS Rebel T2
-- EOS 60D EF-S 18-135mm IS Lens Kit Refurbished
-- EOS Rebel T1i Body Refurbished
-- EOS 60D Body Refurbished
-- EOS Digital Rebel XT Silver with EF-S 18-55 Lens Refurbished
-- EOS Rebel T3i Body
-- EOS ELAN IIE
-- EOS Rebel T3 Metallic Gray EF-S 18-55mm IS II Lens Kit Refurbished
-- EOS Rebel T3i EF-S 18-55mm IS II Lens Kit Refurbished
-- EOS Rebel T3 Red EF-S 18-55mm IS II Lens Kit Refurbished
---