This page may contain affiliate links that pay me a small commission. There is no cost to you. You can review the affiliate statement at the very bottom of this page if you want more information. As an Amazon affiliate Canon Camera Geek may earn a small commission from qualifying purchases, at NO added cost to you.

Canon R6 Mark II
Customize Buttons One Shot AF to Servo
by Mary
(USA)
"I can't seem to customize any of my buttons to work to change one shot AF to Servo. I have my dial set to Manual. Is there another menu setting that I need to change to enable the change? My camera is R6 Mark II" - Mary

Hi Mary!

Thanks for asking how to customize a button on your Canon R6 Mark II to change from One Shot AF to Servo Auto-focusing. I can help you with that.

I literally just opened up my copy of the R6 Mark II and the 24-105mm f/4.7-7.1 lens. I recommend you use the AF-On button to switch between One Shot and Servo unless you already customized it to use it for back-button focusing.

Step 1 is to select the option for customizing buttons in the 3rd column under the orange customize camera icon on your R6 Mark II LCD after you push the "menu" on the back of your camera. SEE THE PHOTO ABOVE.

If you haven't gone into this part of the menu before, the default option is already set on the main shutter/focus icon. Two levels down is the "AF-ON" button. Select that option (or the button you want to customize).


This is selected if you want to customize
what the shutter button does when you press it.
STEP 2
is to select the AF-ON option as the button you want to set for switching between One Shot focusing and Servo focusing. The hit "SET - OK" on your LCD screen to accept this change.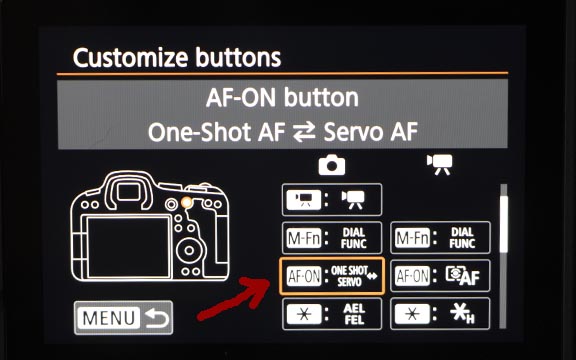 Scroll down a little and select the AF-ON option
STEP 3
is to select the ONE SHOT-SERVO option.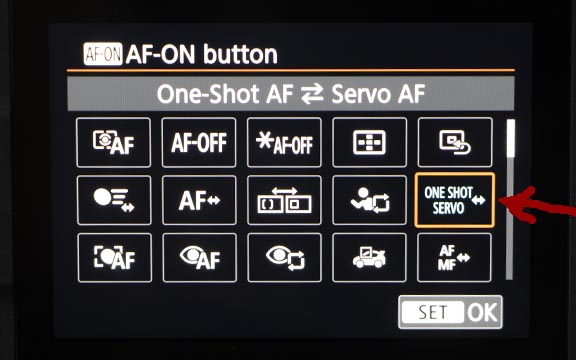 Select the One Shot-Servo Option
STEP 4
is to hit the "SET" button inside the Quick control dial 1.
You can also watch this helpful video on YouTube. It's how to customize the switch back and forth from One Shot to Servo, but with the R6 Mark I camera, but I still think you'll find it helpful to watch:
Customize Canon R6 Buttons Video
I hope this helps,
Be sure to comment back if you wish.
Thanks,
Bruce