This page may contain affiliate links that pay me a small commission. There is no cost to you. You can review the affiliate statement at the very bottom of this page if you want more information. As an Amazon affiliate Canon Camera Geek may earn a small commission from qualifying purchases, at NO added cost to you.

CANON EL-100 SPEEDLITE CAPACITY
by MAC
(TX)
Does any one know why the flash EL-100 shoots more than 200 on camera but off camera it doesn't?

Hi Mac, Fascinating question about how the Canon EL-100 flash will last longer on camera compared to being used off camera.

EL-100 Number of Flashes
According to the Canon website:
Approx. 58–400 times.
When using AA/LR6 alkaline batteries.
Approx. 69–480 times.
When using AA/HR6 Ni-MH batteries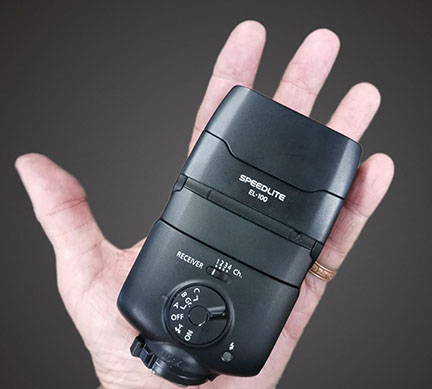 Compact EL-100 is perfect size for Canon mirrorless cameras
EL-100 Reduced Exposure
At first thought, it makes no sense that the number of flashed would be diminished if the Canon EL-100 is used off camera rather than on your camera's hot shoe provided the power source is the same. I'm assuming you aren't changing batteries.
Then it dawned on me! The direction of the light hitting the subject makes all the difference. When your EL-100 is off to the side some of the surfaces that the light is striking are not facing toward the camera. In other words, your camera does not get to see as much of the light that is reflecting off of your subject.
Some of the light is "wasted" when it's coming from the side. When the light from your flash is coming from the same angle that your camera sees, it is more efficient. More of it is being used. More light is needed (more battery power is consumed) when your flash is striking your subject from the side, below, or above your subject.
The amount of lost light will be very defendant on both the subject matter that you're shooting as well as the degree of angle that your flash is placed. Mac, I'm curious about what subjects you're photographing.
I hope I explained this without being too confusing.
Thanks,
Bruce
Canon Speedlited
Canon Speedlite Accessories
CHECK PRICE: Canon EL-100
As an Amazon affiliate Canon Camera Geek receives a small commission from qualifying purchases, at NO added cost to you.