This page may contain affiliate links that pay me a small commission. There is no cost to you. You can review the affiliate statement at the very bottom of this page if you want more information. As an Amazon affiliate Canon Camera Geek may earn a small commission from qualifying purchases, at NO added cost to you.

How to Adjust Shutter Speed of
Canon SL3 (200D M2) in Aperture Priority Mode
by Himanshu desai
(India)
"How to adjust minimum shutter speed in aperture priority mode in canon 200d mark2"

Hello Himanshu!

Thanks for asking about the Canon SL3 (200D Mark II in India) shutter speed setting in aperture priority mode. Aperture priority mode is one of the semi-automatic exposure modes. See the detailed article on Camera settings.


SL3 Aperture Priority Mode
Aperture priority means you set the f/stop number (aperture) and the camera will set the proper shutter speed to get a good exposure.
1. Set the SL3 into aperture priority as shown in the photo below.
2. Using the SL3 LCD screen, set the aperture and observe the shutter speed that your SL3 determines while you've got your photo composed.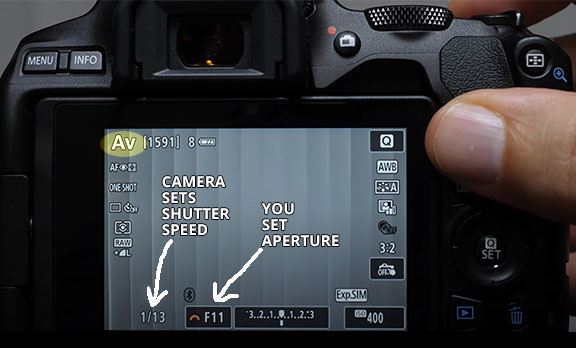 The range of shutter speeds available with the SL3 is from a slow of 30 seconds to a fast 1/4000 second.
You asked about the minimum shutter speed and that is 1/4000 second.
If you are out of the desired range of shutter speeds (very dark or very bright situations), you may have to adjust your aperture and/or your ISO to get the shutter speed in range or where you want it. It depends on the exact situation and the effect you are seeking.
Himanshu, I hope that answers the question I think you were asking. If not, feel free to comment. I personally shoot about 95% of the time in aperture priority because I want complete control over depth of field. You just have to learn to watch the shutter speed and adjust the ISO, use a tripod, add flash, or change strategy if you're not getting the shutter speed you want, even if you shoot in aperture priority.
Of course, you could also switch to
Shutter Priority
mode on your SL3(200D Mark 2). That's what most photographers would recommend. That way you are setting your SL3 to the speed you want as the priority, allowing the camera to set the aperture. Then you would make adjustments, change the ISO perhaps to get your photo.
Good Luck!
Bruce
Canon SL3 Versus Canon "t" and t8.