This page may contain affiliate links that pay me a small commission. There is no cost to you. You can review the affiliate statement at the very bottom of this page if you want more information. As an Amazon affiliate Canon Camera Geek may earn a small commission from qualifying purchases, at NO added cost to you.

Rf Lens Adapter For Canon t7i
by patti
(Chino Valley Az USA )
I bought a RF 100-400 lens for my EF rebel ti7. Is there any way I can make it work? I don't want to return it? Thank you

Hi Patti,
Thanks for your question about fitting a Canon RF 100-400mm lens on your Canon t7i. Canon has sure made it confusing when it comes to their different camera mounts and compatibility with their different lenses.

RF Lens/Camera Compatibility
While all of the EF and EF-S lenses can be used with Canon mirrorless M and mirrorless R cameras along with an
adapter
, the opposite is not true.
There are no adapters that will make an RF lens, like the RF 100-400, fit on a Canon DSLR, like the Rebel t7i. It has to do with the flange different spaces between the mounting flange and the camera sensors. To understand more on this see the post on
Canon Lens Compatibility
.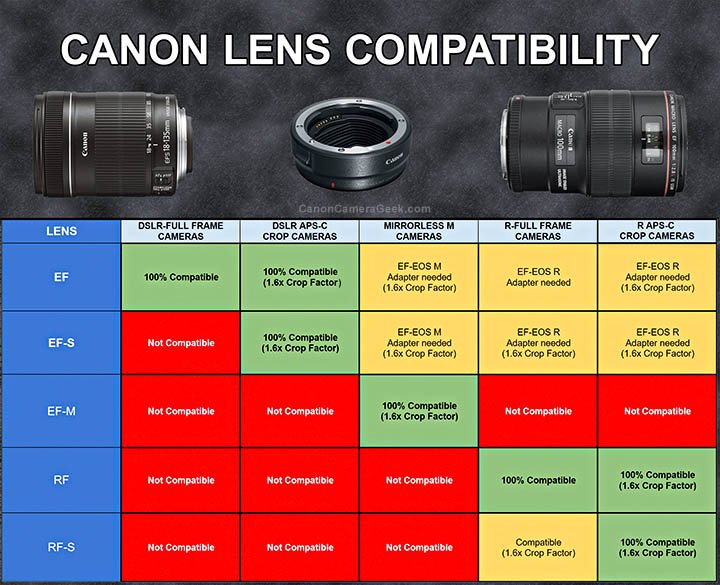 Canon Rebel t7i Lens Compatibility
The Canon t7i is compatible with EF and EF-S lenses. That's a good thing because there are so many of them, both used and new, available for you to choose from. That includes one of the EF 100-400mm lenses- I love mine and I use it on my 90D which has the same size sensor as your t7i. You got a lot of magnification with that combination.
See the advertisement for
KEH
on this page for used EF and EF-S lenses excellent condition.
Good Luck,
Bruce