This page may contain affiliate links that pay me a small commission. There is no cost to you. You can review the affiliate statement at the very bottom of this page if you want more information. As an Amazon affiliate Canon Camera Geek may earn a small commission from qualifying purchases, at NO added cost to you.

Do Polarizing filters work on a Canon EF M 11-22mm Lens?
(How About Polarisers?)
by Vlayko
(Belgrade,Serbia,Europe.)
Question from a CanonCameraGeek reader: Can you actually effectively use polariser filter on canon ef m 11-22mm lens?

Hello Vlayko,

Thanks for asking about how well a polarizing filter will work on the Canon EF M 11-22mm lens. In terms of focal length and angle of view, the EF M 11-22's closest cousin for Canon APS-C cameras is the EF-S 10-18mm lens.

The EF M 11-22 lens is one of the series of "M" lenses Canon makes to use on the M series of compact crop sensor mirrorless M cameras. The 10-18 EF-S lens is made to fit on the same crop sized sensor, but on the APS-C DSLR cameras like the Canon 90D.

The equivalent angle of view for the EF M 11-22 is the same as an 18-35mm lens would give you on a full frame camera. The angle of view is about 63 degrees when zoomed to 22mm and about 106 degrees at the 11mm focal length.


Canon EF M 11-22mm Filters
The two must-have filters for your EF M 11-22 lens are a polarizing filter and a
Protective
UV-type of filter. Canon does market its own "Protective" filter under the Canon brand name and 55mm polarizer filters can be bought from many different companies. Circular Polarizing filters are usually designated as
CPL
filters.
Polarizing Filter For Canon EF M 11-22mm f/4.0-5.6 Lens
Why Use a Polarizing Filter on Your Canon EF M 11-22 Lens
Using a polarizing filter on your 11-22 lens can have two dramatic effects on your photograph.
1. SATURATION.
Landscape photographers use polarizing filters to improve the saturation of colors in their photographs.
2. REFLECTIONS.
Reflections can be significantly reduced when you have a polarizer attached to your lens. See the dramatic effect below.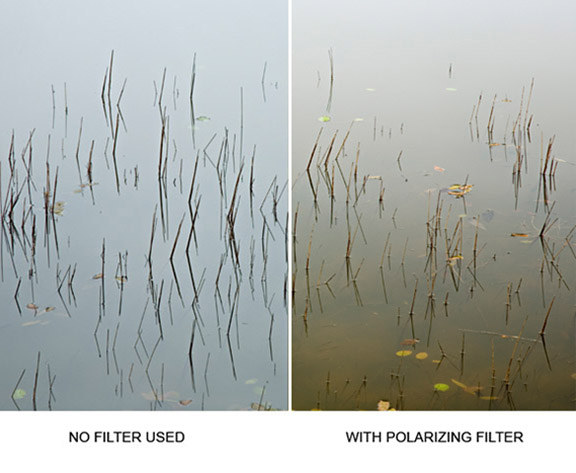 Dramatic Effect of Using a Polarizing Filter
The Canon EF-M 11-22mm lens focuses internally. That mean the filter threads do not turn when you focus, so it works well with circular polarizing filters. You may get an uneven effect when you use polarizing filters with super wide lenses like the 11-22mm lens. Uneven polarizing can result in uneven sky colors, especially blue skies, since the polarizing effect is at its maximum 90 degrees from the sun.
How much of an issue will the unevenness the polarizing effect be with your Canon EF M lens depends on the direction of light and the angle of view you're using with your 11-22mm lens.
I hope that answers your question.
Canon Lens Filters
Polarizer Filter For Canon 70-200mm Lens
Bruce